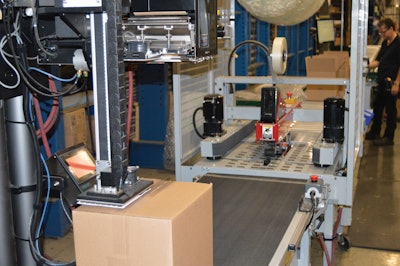 Thomas & Betts, Bromont, Quebec, Canada, is a leading manufacturer of an expansive range of electrical products and components (for example, conduits, couplings, fittings, wiring ducts, signal boxes, sockets, and switch gears). To help improve shipping efficiencies for their vast range of items, Thomas & Betts decided to install new state-of-the-art automated labeling systems.
Under the old labeling system, T&B scanned order "license plates" to generate pack slips that were manually inserted into the shipping cases or into film envelopes attached by hand to the exterior sides of the cases. The shipping case delivery address labels also were manually applied. T&B wanted a faster, more reliably accurate labeling approach that was less labor-intensive.
On the recommendation of VisuaScan, Inc., Thomas & Betts found the Model 3600 STAF Packing List and Shipping Label All-in-One fully automated system supplied by CTM Labeling Systems.
This system produces duplex Auto-Fold Labels™—all-in-one shipping documents, complete with packing slips and shipping labels. The system prints, folds, and applies labels to shipping cases or other containers, based on specific product application. A single thermal print engine prints and feeds the labels to a split vacuum pad. The split pad then folds the packaging list information under the shipping information so that the shipping information is facing out and the packing info is facing down, ready to be applied to the shipping case.
Under this new 3600 STAF (Servo Tamp Auto Fold) printer/applicator system, the product order license plate is scanned by a VisuaScan, Inc. scanner, acquired through distributor CTM. The info read by the Sick sensor is sent through the Warehouse Management System to the CTM 3600, which is integrated with a Zebra Technologies Model ZE500 thermal print engine (203 dpi) via Ethernet communication. Shipping label data is printed, and the packed shipping case is sent through the taper for closing and onto the label printer/applicator station. The 3600 STAF automatically detects the case height, and the servo-tamp extends to automatically apply the Auto-Fold duplex label.
Duplex shipping labels are converted by Ward Kraft and supplied by My1Stop. The shipping label info is printed on the front, and packing info is on the back. So there is no need to match up packing list data with shipping delivery info. It's all there printed on the same label.
Companies in this article