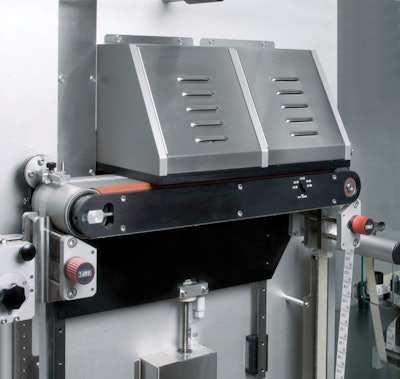 Every day between 250,000 and 350,000 ampules are filled at Biologische Heilmittel Heel in Baden-Baden, Germany. Now Heel, a leading global supplier of homeopathic combination medications and a pioneer in scientific research of natural medicine, is taking a new approach to labeling, as a highly flexible labeling center prints a complete label from a blank and applies it to the ampule. The major advantages of the new process are higher production output, simplified logistics, and increased flexibility.
"It wasn't easy finding a new system," says Stefanie Weber, team leader for Heel. Although the labels for the ampules are only printed in one color, a lot of information has to be arranged in a very small area. "And that places increased demands on the printing process," says Weber. The process must also be flexible, as up to eight batch changes requiring different texts may be planned for one day.
Heel already had a Bausch+Ströbel high-capacity labeling machine in use. It was equipped with a hot-foil printer that imprinted variable data by means of a heated die, movable type, and an ink ribbon.
"This system ran trouble free," says Dr. Werner Hofmann, Director of Global Production Operations at Heel. "We had already decided to purchase an additional machine to extend our capacity."
But one place where improvement needed to be made was in the printing technology used. Each label variation required the handling of ink ribbons, movable type, and dies to hold the type. This was complicated, time-consuming, and costly. "But for our application there just wasn't anything else on the market," says Hofmann.
That's when Hoffman heard of a new development undertaken jointly by Bausch+Ströbel and print specialist Hapa, part of the Coesia Group. It's the combination of a B+S high-capacity labeling machine and a fully digital Hapa printer that prints not only variable data such as expiration date or a code, but which creates a complete label from a blank in a multicolor printing process—and that at an output of up to 800 ampules/min.
"This new system seemed tailor-made for us," says Hofmann. Nor did he see any problem in ordering a prototype, he adds. "We have had Bausch+Ströbel machines in use for a long time, particularly for aseptic filling, and the cooperation has always been positive over the years." And this order was no exception. Some early troubleshooting was involved, primarily in the area of software. But this was resolved readily enough.
New approach by operators
Also requiring a period of adjustment as the new labeling center came into production were the folks who operate the production lines at Heel. "This was primarily because the basic concept of the machine is so different," says Weber. Many things previously done manually are now done by the machine's control system. The new machine is extremely meticulous and can indicate the slightest flaw. "We had to differentiate very precisely when an ampule is really a reject and when a reject message need not be triggered." But in-house training courses made the operating principles of the new machine quite clear to the operators. "They wouldn't want to be without it now," says Weber with a smile.
She, too, is highly satisfied. "The creation of new labels still has to run through our approval procedure of course," she says. But every label variety—400 products for over 50 countries are manufactured in Baden-Baden—has been filed digitally in the system. Batch changeovers now take much less time. (A batch can be between 2,000 and 96,000 ampules.). Together with the higher machine output—up from the previous 520 machine cycles per minute to 750 now—production has been increased significantly. Even at this terrific speed each and every label is checked completely for errors. This inspection is done by a machine vision system from VisionAutomation.
The much gentler ampule transport has also met with a positive response. Weber says she is thrilled by the quality of the print, which in contrast to the hot-foil print is always consistently very high.
Even the issue of white ink, which has historically been a challenge in digital printing, has been resolved. Heel wanted white ink to print the transparent lablels that go on the amber ampules. So Hapa has developed a special white ink that is completely opaque.
Two labeling centers
Heel has two of these labeling centers in use. Each comprises two machine modules: the high-capacity labeler type ESA 1025 and a Hapa-800 LabelJet CMYK print system. As a further option a fully automatic label web splicer can also be integrated.
The ESA 1025 runs at an output of up to 48,000 containers per hour and labels ampules, cartridges, small bottles, vials, and similar—even unstable—containers. The Hapa systems print with uncompromising quality due to the latest UV Drop On Demand (DOD) inkjet technology, with sophisticated drop placement at up to 720 dpi. The Hapa 800 is a fully digital piezo ink-jet system, using solvent-free UV-cured inks. Product information and batch data can be printed in a single pass, thereby easily meeting requirements for unit-dose coding, as well as sequential and randomized numbering. The machine is also capable of processing pre-printed labels, only requiring the addition of batch data using the DOD print technology.
The operation of the print system is fully integrated in the labeling machine so that it is called up on the operating panel there. A batch change at the labeling machine therefore automatically supplies the print system with new data.
The label print is verified completely. Even variable data such as codes or the expiration date are checked by the vision system. The labels provided by the printer are supplied to the labeling position by a servo-controlled label dispenser in an intermittent motion synchronized with the machine. The label is peeled off the release liner and transferred to the container during container transport. Containers with faulty labels are automatically ejected without output loss. Alternatively, the labels can be ejected automatically before the labeling process so that labels that failed verification are never applied to the containers.
Label web advance is controlled by the electronic label dispenser controller in accordance with the label length. A patented "reference run" functionality also saves this advance distance as a reference value and ensures that the labels are dispensed precisely even if labels are missing on the web. Double labeling is thereby prevented and checking each and every label at the individual stations is guaranteed.
A special feature permits printing to be switched off before the end of the batch. In this way the label dispenser is filled with unprinted labels so that it is not necessary to remove the label web when the batch has been finished.
Functionality can be increased by a series of additional checking devices and work stations such as a label-on-container check, color check, etc.
Companies in this article