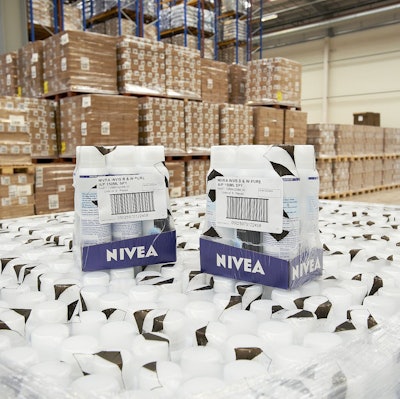 Leading skin care manufacturer Beiersdorf, whose brands include NIVEA, Atrixo, and Eucerin, has brought its repackaging services in-house, resulting in a host of operational and customer benefits following the installation of Domino's M-Series print-and-apply label technology. Beiersdorf UK invested in four M200 print-and-apply labelers for its new Retail Ready Packaging (RRP) lines as part of an extension of its warehouse and logistics facility. As a result, the company has increased automation and operational cost savings and improved its environmental credentials as well as gained greater flexibility in responding to customer demands.
Part of the worldwide Beiersdorf Group, Beiersdorf UK, which employs around 200 staff, handles the repackaging of its global brands into shelf-ready containers for the British retail market.
The decision to invest in the Domino technology was made by Mick Clipston, Beiersdorf's Packaging Technologist. He was called in to use his expertise and knowledge to project-manage moving the company's RRP operations in house.
Clipston explains, "Prior to this, we were outsourcing all our repackaging. In terms of logistics and the associated costs alone, this just didn't make any sense. It required us to transport our goods from the warehouse to our contract packers, then back to the warehouse again, before being shipped off to their final destination."
Following the extension of its new warehousing facility at Holford in the Midlands, Beiersdorf grasped the opportunity to address its logistical challenges. By bringing its RRP in-house, the company was able to introduce a solution that would not only bring cost savings and environmental credibility to its operation by reducing road traffic, but also deliver a greater element of automation and productivity. Today, the goods are repackaged to the retailers' specifications into smaller quantities of shelf-ready trays, before being shrink-wrapped and labeled prior to shipping to the supermarkets.
Print-and-apply required
Central to the success of Beiersdorf's new in-house RRP lines was the need to find a suitable print-and-apply labeler. Clipston was looking for a technology that could both print high-resolution barcodes, text, and graphics for supply chain compliance, and automatically apply the labels onto the outer cases of the repackaged, shrink-wrapped packaging.
"We reviewed a number of different print-and-apply solutions before opting for the Domino's M-Series," says Clipston. "The M200 models not only came in at the right price, but also provided the production speeds we were looking for and could easily handle the different variable-data requirements with excellent print clarity. We were also delighted with their ease of use, as our operators can simply change applications at the touch of a button, reducing downtime between jobs."
The New M200 print-and-apply labelers are installed onto electronic, height-adjustable stands that receive the repackaged goods on a conveyor directly from the shrink-wrap heat tunnel. Here the labelers print GS1 labels comprising date, product and batch identification data, and barcodes, which are scanned for improved traceability and supply chain management.
To further assist Beiersdorf, Paul Johnson, Domino's Area Sales Manager overseeing installation, ensured that the M200 labelers were loaded with a series of predefined label templates with easily changeable variable-data fields. Says Johnson, "Although the M200 is extremely flexible and intuitive for operators, we wanted to ensure Mick's team had all the necessary tools on hand to make the transition from one job to another as quick and smooth as possible."
In addition, the versatility of the technology—which incorporates both a tamp and blow functionality—enables a wide range of labels to be securely applied onto hard or flexible surfaces, in either static or moving applications.
Domino's M-Series print-and-apply label technology comes in a series of compact, modular designs as either standalone or integrated networked printers. Suitable for use in secondary or tertiary applications as well as directly onto products, it prints high-resolution compliance text, barcodes, and graphics onto labels and then applies the labels onto each package at high production speeds.
Additional benefits include an optional electronic height-adjustable stand for simple repositioning of the label onto the product, while the new built-in HMI touch panel offers simple operation with minimal training.
Benefits abound
Since the introduction of its own RRP lines and the installation of Domino's M-Series print-and-apply labelers, Clipston and his team have seen a number of benefits.
"Now that we're handling our own repackaging on the premises, we've been able to reduce our logistics and transportation requirements. Not only does this represent a significant cost savings to the business, but it has also enabled us to reduce our environmental impact in the process. In addition, the new M200 print-and-apply labelers have introduced a greater degree of automation to the process by both printing and applying the labels onto the packages. This has meant less manual intervention and greater production efficiencies."
Clipston is already looking at how the company's latest investment will add further to the bottom line. "The UK retail sector is very different to that of our European counterparts and demands much higher levels of shelf-ready packages. We are also seeing an increasing requirement for special promotional and seasonal packaging, with lead times getting tighter and tighter. By handling our own RRP internally, and with the flexibility of our M200 print-and-apply labelers, we are now in great shape to respond quickly to our customer's growing demands."

A video is available of the Beiersdorf/Domino M-Series application.
Companies in this article