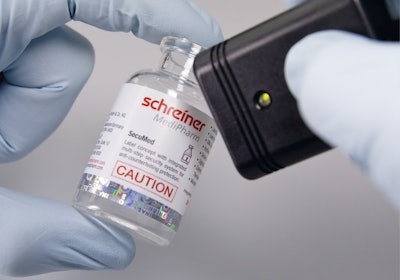 The SecuMed labeling system can be customized according to the specific requirements of pharmaceutical manufacturers. The labels can integrate a specific mix of overt, covert, and machine-readable security features. Options include complex holograms, ShiftSecure color-shifting ink, thermo-reactive print (whose colors change at various temperatures), and a covert feature known as LaserSecure.
Schreiner MediPharm's new system has individualized integration options suitable for nearly any pharmaceutical label. The flexible combination of overt and covert features creates an extremely high technical barrier for product counterfeiters.
Following is a sampling of the SecuMed labeling system's customizable features, as well as details concerning each:
• Holographic design elements: Customized decorative artwork and security features such as 2D/3D effects, dynamic structures, and micro/nano text.
• ShiftSecure: Color-shifting effects that can change hues depending on viewing angle. Various, easily distinguishable colors are available, as are customized "latent" images for a unique light-dark effect.
• Thermo-reactive print: Reversible print color changes at customer-adjustable temperatures. The feature is so precise that even rubbing the label with a finger (body temperature) yields a conspicuous change in color.
• Combinations of luminescence and digital watermark: Covert copying protection - proven in banknote and securities printing - utilizing small, transparent filters that make covert image elements visible under UV light.
• LaserSecure and LaserHighSecure: Invisible, machine-readable security pigments that can be integrated into all graphic elements and colors for exceedingly reliable proof of authenticity.
• DNA-Secure with red luminescence: Two-step authentication via a handheld reader and DNA laboratory analysis
• KeySecure: Value-added code authentication by phone call, Internet or smartphone whereby encrypted numbers are provided in human-readable text, barcode or DataMatrix code. A "Plug & Play" system is available for easy IT integration and fast implementation.
Companies in this article