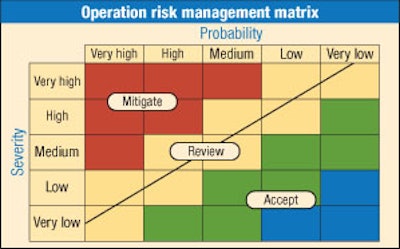 If one of these threats actually unfolds, it could devastate a company. So how does a food company manage risk?
First, you need to review the basic components of risk, beyond process control and quality assurance. The basics of Risk Analysis are:
• Risk Assessment—including the sub-routine of hazard analysis
• Risk Management—risk mitigation, risk transfer, or risk acceptance (for example, HACCP, GMP, FMEA, etc.)
• Risk Communication—including an ongoing review Usually missed in the analysis is getting corporate finance to put an actual dollar figure on what a threat will cost if it actually unfolds and becomes something the corporation must deal with. Reality may be that your business could be in the "accept" area not needing to do anything (see chart). Lower-probability emerging risks are commonly ignored, as corporate finance essentially says, "How could that be a risk when I don't see any mortalities?"Still, the packaging professional is the one held responsible for ensuring there won't be any mortalities.
Second, you need to apply risk concepts to everyday practice in packaging. However, small data sets make it hard to create the rigorous ROI-based financial analysis that CFOs are used to seeing. Groups such as the Food Safety Alliance for Packaging (FSAP) and the Society for Risk Analysis (SRA) are working to help apply tried-and-true methods to emerging risks in new areas such as packaging. For example, FSAP has developed a Packaging HACCP program, and the SRA is constantly adapting risk theory to met the needs of real people in real jobs.
Third, once you do figure how to apply the risk concepts, be very aware of the hazard analysis (HA) sub-routine in risk assessment. The HA step in HACCP is so critical.
Finally, on the Probability versus Severity Matrix shown here, where would you put product counterfeiting? Would you enter a summary or specific type of counterfeiting? How does your company define the line between "mitigate" and "accept?" Do your CFO or Chief Risk Officer have a chart like this?
Be aware that senior management is now using enterprise risk management and charts such as this to forecast risk. By focusing on the HA step and using tools such as this matrix, you can improve management of the risks that could destroy your company. Enterprise Risk Management is coming—are you ready?
At Michigan State U., John Spink (spinkj@msu.edu), MS, CPP, is an adjunct faculty instructor and the director of the Packaging for Food and Product Protection (P-FAPP) initiative within MSU's National Food Safety and Toxicology Center.