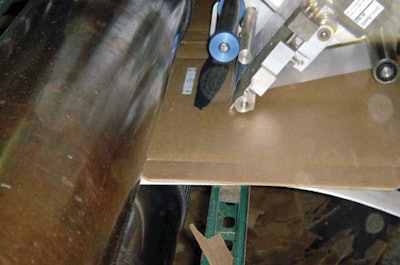 One of the growth areas our experts cite is for packaging supplied to packagers with the RFID tags already inside, especially in corrugated.
"This is a natural outgrowth as RFID progresses and as tags become cheaper and more sophisticated," suggests consultant Shahram Moradpour. He claims embedding addresses one of the biggest problems in RFID from a business process perspective and also eliminates what he calls one of the biggest variables: "the human error in manually applying a tag to a box."
"I'm a big fan of embedded tags," says ARC's Chantal Polsonetti. "It would help reach ubiquity—having a lot of product tagged—that's required to make RFID a viable solution. There's a lot of 'noise' about this, but not a lot has been done." Polsonetti says that questions arise whether corrugated suppliers have the skill sets to manage the EPC data.
"But once RFID becomes more common, this would become a more seamless integration into the process," she adds.
"Tagging of raw packaging materials is coming, sooner rather than later," asserts consultant Ray Hagedorn, who was involved with Sara Lee's launch into RFID to meet Wal-Mart's mandate. "It's a fact that major companies are having their materials suppliers looking into this."
At least one major corrugated supplier already offers RFID-embedded materials even as other vendors offer RFID-enabled bins, pallets, and even RFID-enabled closures for pharmaceutical products.
"The earlier in the supply chain you use RFID via the EPC (Electronic Product Code) number, the more value you can obtain from the tag and from RFID," says RFID authority Kevin Ashton.
See the story that goes with this sidebar: Higher frequency of RFID ahead