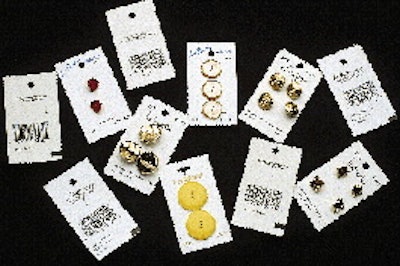 Previously, the packaging and distribution center used offset printing-either in-house or jobbed out-that often led to waste. Because each print order, no matter how small the volume, required the use of a print master or flexible "plate," the company typically would order more cards than it needed as it tried to anticipate future volume. However, the next order for a particular button often meant a change in price or other information. Thus, the cards previously printed would have to be scrapped, and the process began all over again.
Today, the plant uses two CQL4 thermal-transfer printers from QuickLabel Systems (West Warwick, RI) that are driven by Windows-compatible software in the plant's print shop computer. "We have a state-of-the-art printing operation," boasts Ralph Langer, president of Carlstadt, NJ-based Blumenthal/Lansing.
While the company sells 7관 different SKUs of product, it employs one single package for all! It's a 17/8 x 31/4" card to which the buttons are attached by stitching. It's hole-punched for hanging on pegboards in the sewing and notions departments of major retailers. "Our pack is designed to be self-service for the customer," Langer says.
The card is 12-pt paperboard rollstock that's printed on one side with brand or manufacturer information and shipped in roll form to B/L's Lansing, IA, plant. It's the back of the card that's crucial. Each carries information about materials, pricing, care instructions, country of origin and a UPC bar code.
Old process was slow
With the previous offset printing, compositors had to create a prototype for the master by printing blocks of type created in a word processor. Once printed out, the various pieces of copy would be assembled and put onto the master. Then it would be proofread before it was developed and mounted on the press and printed, either in-house or by a local job shop printer.
"If a mistake was missed on the master, it would be wrong on the cards," says Tim Stone, B/L's packaging materials purchasing manager, and the supervisor of maintenance. "With the CQL4, you have the advantage of looking at the information on the screen before you print it. It's right there in front of you."
The master also required special chemicals and inks, and a lot of time for set-up, Stone tells Packaging World. After the ink on the cards was dry, the print shop workers would have to shift them to a cutter. "The process involved a lot more labor and a lot of steps," recalls Stone.
Because the copy for each card can be stored on the computer, it can be easily called up from memory the next time a specific product is to be packaged. If necessary, the information can be updated or modified, and again run through the software's spell-checking device. Then with a mouse click or computer command, the clerk can send the print command from the computer to the thermal-transfer printers.
The result is a significant reduction in B/L's inventory of printed cards; despite the output of the label printers, the plant still uses some preprinted cards, too. The computer operator has the capability of changing the copy or bar code or pricing on-the-fly. This is how the company can now respond quickly to even very small orders of a specific style of button.
"In a rush, we can do as few as a dozen cards of a specific variety, just to fill a special order," Stone says.
Lots of changes
Stone was asked to estimate just how many different cards were printed each day or week. "I asked our production people, but they told me that it varies so much that it's almost impossible to say. I couldn't even get them to tell me a range of the number of work orders they process each day. But I can tell you that we fill a lot of different orders for a big variety of button types each day," Stone reports.
Print runs, he says, range from a single dozen cards up to 1괌 dozen cards. B/L can print up to 4ꯠ cards/hr on each of the two CQL4 printers. The plant has a weekly update where it evaluates the orders in-house for printing the following week. This allows them to gang the volumes of a specific print job. And it also alerts the print shop about copy changes, price changes and even country-of-origin changes. "This doesn't change all that often, of course, but we do have the capability to easily make the changes," Stone says.
In part, that's because the QuickLabel computer software, also supplied by Astro-Med, is easy to use. When B/L got these printers, Stone took three workers from the printing department to Astro-Med for training. "These people had almost no computer experience, and they've done very well. We've had virtually no problems with setting up labels and downloading the information to the printers," he says.
Almost perfect codes
Almost all of B/L's customers require the company to print the UPC bar code on the back of each card. Some customers even require the more complex interleaved two-of-five code. Because of the prevalence of checkout scanners at retail today, B/L has to be certain the codes it prints on cards will scan well.
"Bar codes are a real good barometer of the print quality of these printers," Stone points out. "The scannability of our bar codes is always above ninety-nine percent. We check our codes with a code verifier. Our production people do random testing of the codes throughout the production day."
In the B/L process, one copy of a work order goes to the bulk department, where the buttons are picked, and another copy to the print department for printing the cards. Eventually, the two are combined in a work bin that moves to the company's packaging department.
In this area, workers operate stitching equipment from Stanley Bostitch (East Greenwich, RI). Operators arrange the buttons on a card and engage the machine to apply a metal staple to hold each button in place on the card.
No printer modifications
Space savings is another advantage of these printers, Stone says. Even with the cutting and stacking stations, the new printers are more compact than other thermal card printers. Of course, that may be because these are label printers, not card printers.
"Our operation is a bit different from what these printers were really designed to do, but they've worked well for us," Stone emphasizes. "The manufacturer didn't have to make any modifications to the system for us to be able to handle rolls of cardstock. That was a bit of a concern going in because our stock is thicker and heavier than what the printer is supposed to be able to handle." He says only that B/L probably does more preventive maintenance than label printers may need to do.
"We haven't had much downtime with them, and the technical support has been very good. If we have a mechanical problem, the manufacturer usually gets us parts by the next day. We do most of our maintenance ourselves," he adds. He also notes that, thanks to good business, the plant really runs the printers hard, often from 5 a.m. until 5:30 p.m.
"These are compact, off-the-shelf units, and they've performed well for us," concludes Stone. "We're producing, on average, a million cards each month."
Companies in this article