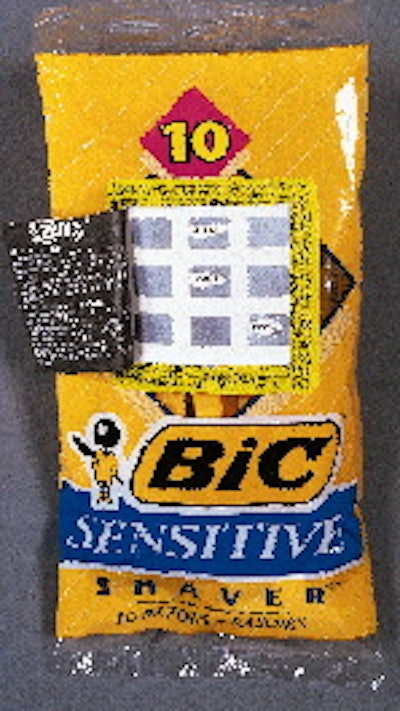 For its first major game promotion, the shaver division of BIC Corp. wanted an edge on the competition. So the Milford, CT-based company created a scratch-and-win game piece with cash prizes totalling $2.7 million, including one instant winner of $1 million, on 10-packs of its single-blade shavers.
Deciding to launch a game piece promo was one thing. Figuring out where to put the piece was another. Inside the package was never much of an option because it would have required an investment in new equipment, something management wanted to avoid. But attaching the piece outside or on the 10-pack was worrisome as well, considering the big-bucks, instant-win dynamic of the whole thing. After all, what if shoppers simply tore the game pieces off as many packages as they wanted right in the store aisle?
Debbie Guillery, packaging engineer at BIC, presented the project to Mickey Loughrey, sales representative at Promo Edge (Neenah, WI), a company that manufactures in-store promotional materials. "Promo Edge is one of our leading suppliers. We have the utmost confidence in them and their R&D department," Guillery says. "They've bailed us out of many situations prior to this one, and when I presented this project to Mickey, she knew exactly what would work for us."
Loughrey suggested an on-pack approach that would be inexpensive to implement but would also ensure the security of the game piece. The end result is a customized label construction that requires consumers to cut into one or more sides with a scissors before they can access the game piece. Promo Edge also specified a special adhesive to prevent shoppers from peeling off the entire piece in the store.
Once the piece is cut open, the top layer of brightly printed paper can be folded back. This top layer is a 60-lb semigloss paper printed flexo by Promo Edge. Because BIC distributes its shavers in the U.S. and Canada, the copy is in both English and French. Also printed on this top layer along the left side are instructions telling the consumer to use a scissors.
When this top layer of paper is folded back, the game piece, on a bottom layer of 60-lb paper, is revealed. Essentially like a lottery ticket, it's nine squares of scratch-off emulsion laid down like ink. a liner attached to the underside of the top layer, instructs to scratch three squares. If the dollar amount appearing in all three squares matches, the player wins that dollar amount.
The label's top and bottom layers come separately to Promo Edge in rollstock form already coated with adhesive from Spinnaker Coating (Troy, OH). Promo Edge adheres the layers together on the same printer that prints the labels. Using a Label-Aire (Fullerton, CA) labeler, BIC applies the labels to the bags, which are made on a Doboy (New Richmond, WI) horizontal wrapper from 1.4-mil polypropylene film supplied by Union Industries (Providence, RI). No investment in labeling equip-ment was necessary because the labeler was already on the line for application of other p-s labels.
BIC started distribution of the game in December '97 and will continue through December '98.
Guillery is pleased with Promo Edge's solutions to both the security and cost issues. "I was very happy with them. We didn't have any pilferage problems, the stickers ran well with the products, we didn't have any manufacturing issues and it worked well with marketing. So from my standpoint, it was fantastic."
Companies in this article