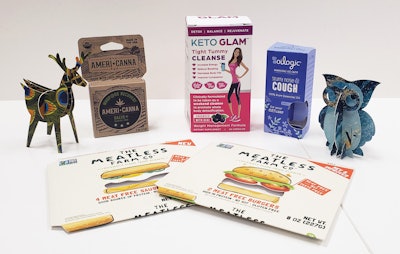 Since 1996 Virtual Packaging of Grapevine, Tex., has been providing shelf-appeal consulting as well as packaging prototypes to a wide range of U.S. and international clients. Now those clients want the firm to also produce commercial quantities in addition to prototypes. To do that, management realized they needed to invest in digital technology for both printing and finishing of folding cartons.
"As capable as we were when it came to providing customers with prototypes, we weren't able to help them when the quantities numbered in the hundreds or a thousand," says Tara Duckett, VP Sales & Operations. "And we realized no one else was really able to meet requests in those volumes, either, so we knew it was a good opportunity. And the best fit, we felt, was the combination of Landa and Highcon."
And so it was that in 2019 the firm installed an S10 sheet-fed nanographic press from Landa Digital Printing and a Beam digital cutting and creasing system from Highcon.
"We began looking at digital printing as early as 2000," adds Virtual Packaging CEO Monty Patterson. "We began with wide format roll-to-roll and flatbed printers. By 2005 we started looking for wider format, the B1 format. It took a while, but by 2016 we started talking with Landa and agreed to purchase a nanographic press in April of that year. And around the same time frame we made a deal with Highcon, too."
With the installation of the two new pieces of carton converting equipment, Virtual Packaging became what Patterson calls "the first all-digital B1 packaging site in North America." When asked if it's risky to wade into such uncharted territory, he has this to say. "It can be. But we ran a lot of numbers and did a lot of analysis. Also, we like being challenged. So there was no doubt in any of our minds that this was the thing to do. We had enough information to know that there was some demand for this, though we couldn't really attach a finite number to it. Now that we're into production, the numbers are coming in pretty much where we thought they would. Sales started off a little bit slower than we'd hoped. But the margins were there from the start. And now we expect to see 10 to 20% increases month after month for quite a while."
From left to right in front of the Landa S10, Landa Field Technician Michael Harar joins Virtual Packaging's VP Press Operator Jose "Pepe" Guerra, VP Sales and Operations Tara Duckett, VP Press Operator Rudy "Romo" Ramirez, VP Production Manager Rafael Guerra, and VP & Administration Jordan Patterson.First in North America
While Virtual Packaging's move is a big deal for a number of reasons, perhaps what's most notable is that it represents the very first installation of a Landa S10 nanographic press in North America. The nanographic printing process, also called nanography, differs from other printing technologies because it uses an innovative system that employs Landa NanoInk colorants, a proprietary water-based ink with nano-pigment particles that measure tens of nanometers in size. Unlike ink-jet printing, where ink-jets put the image directly onto the substrate, nanography is essentially an offset process. The Landa NanoInk dispersions are ejected onto a unique heated blanket, and only then is the ink transferred from the blanket to the substrate in the form of an ultra-thin film. Substrates, it should be noted, can be of the off-the-shelf variety requiring no pre-treatment or priming.
Landa claims that nanography offers unprecedented dot sharpness and color uniformity compared to ink-jet or offset lithography, because its high-resolution ink ejectors deliver 1200 dpi resolution, high coverage, multiple gray levels, and exceptional color definition. As for throughput, it's an impressive 13,000 B1 sheets (1000 X 707 mm, 39.37 x 27.83 in) per hour, though at this point Virtual Packaging operates closer to 6,500 sheets as it awaits an upgrade.
Like other Landa Nanographic Printing Presses, the S10 is equipped with Landa's Active Quality Management (AQM). Developed by Landa with AVT, Techkon, and EFI, it's a fully automatic solution that scans each printed sheet, identifies defects (color inconsistency, issues with print uniformity or registration, missing nozzles), and initiates corrective action where applicable—all without any operator intervention.
Announced with some fanfare at drupa 2012, nanographic printing presses were originally scheduled to begin shipping in 2014. But it was more like 2016 or 2017 before the first S10 beta site, Israel's Graphica-Bezalel, was announced. By summer of 2018, Germany-based Edelmann, a leading folding carton producer with 19 sites around the world, became the first beta site in Europe. And then came 2019. "It was a pivotal year for Landa Digital Printing, which saw its first press installations being enthusiastically received by customers," says Benny Landa, Chairman of the Landa Group. "The company is now poised for unprecedented growth."
One reason for Landa's optimism is that the throughput and quality of the S10 make it suitable not just for super-short runs but for mainstream production of packaging materials. It's "crossover point" is around 30,000 cartons, which means that for runs of up to 30,000, it makes good economic sense to print on the Landa press, while runs higher than 30,000 are probably best handled on offset or flexo presses. With a crossover point that high, the S10 provides a digital solution for more than 50% of all packaging jobs. As the Landa website puts it, it's plate-free offset-quality printing combined with the efficiency and versatility of digital printing. This animation does a good job of depicting how the technology works: pwgo.to/5544.
As for the Highcon Beam, though it has a slightly longer track record in terms of carton converters using it on a commercial basis, it's still something of a new kid on the block. With a speed of up to 5,000 sheets/hr, this digital cutting and creasing solution was developed as a robust solution to the challenges facing folding carton converters and print service providers. It replaces the expensive and slow conventional die-making and setup process with a digital technology that delivers fast speed to market, design flexibility, and the ability to perform a wide range of applications in-house.
The Highcon Beam, whose key operating principal is Digital Adhesive Rule Technology, is capable of creasing and cutting 5,000 B1 sheets/hr.
The key to the Highcon technology is DART: Digital Adhesive Rule Technology. Digital creasing data is uploaded from a DXF file to the Beam system. Proprietary software translates the data and sends it to a special dispensing unit that contains an unnamed polymer. This polymer is released onto a PET jacket mounted on a hard metal upper cylinder. In essence, the dispensing unit extrudes onto the PET jacket the rules needed to make the carton creases. The pattern it extrudes is dictated by the digital data uploaded from the DXF file. As soon as the polymer rules are laid down, they're hardened by exposure to UV light. Directly beneath the upper cylinder and its PET jacket is a lower cylinder that has a soft, silicone-like blanket mounted on it. All that remains is to send printed paperboard carton sheet through the two cylinders. As the upper cylinder with its UV-hardened rules presses into the soft surface of the lower cylinder, the carton stock in between is creased by the rules. Once the required number of sheets has been creased, the PET jacket is removed from the upper cylinder and a fresh one takes its place so that a completely different job can be downloaded.
Lasers, scanners, advanced optics
As for cutting individual cartons from the sheet, it's done within the Beam system immediately after creasing. An array of high-powered CO2 lasers combine with scanners and advanced optics to perform whatever cutting design was spelled out digitally in the uploaded file. Paperboard waste is then stripped away and the finished cartons—digitally printed, digitally creased, and digitally cut—are discharged and ready for shipment to the customer.
According to Duckett, having both printing and finishing done digitally is a game changer. "It's a direct feed from Landa to Highcon," she says. "A pallet load of printed sheets comes out of the Landa and goes straight into the Highcon and away we go."
Jordan Patterson, Director of Administration at Virtual Packaging, says Highcon was selected as the supplier of the creasing/cutting system for several reasons. "For one thing they're well established in digital finishing of folding cartons," says Patterson. "And make-ready is lightning fast. You can print the DART and have everything registered in maybe 15 minutes. It allows us do things that only people with laser cutting capabilities can do. Lace or lattice-like effects, for example. Bottom line on the Highcon, we selected it for the same reasons we like the Landa S10. We don't want to be limited in our ability to provide whatever our customers may want. And it's capable of 5,000 sheets per hour, which is very good when you consider that the system is performing both cutting and creasing."
Duckett points to a number of sustainability advantages gained when printing and finishing are both digital operations. "There's no printing plates to make or discard. Same with the dies traditionally used for die cutting. Our customers can also score some sustainable packaging points because they can order packaging in the quantities they know they need rather than trying to satisfy some minimum order quantity and then having to throw packages out if they become obsolete for one reason or another."
As for print quality, Duckett says that because of the way the ink is laid down, and because the ink sits on top of the board instead of being absorbed into it, the dot is purer than any other technology out there, digital or otherwise. So the image is optimally clean and crisp.
"Think of it this way," says Duckett. "There are seven print bars. On each print bar there are 24 print heads, and each print head has 2,048 nozzles. Another thing that's impressive revolves around the paper that can be used. With most other printing technologies, if you use a cheaper grade of board, maybe something with recycled content, you don't get an optimal look because of the way the ink soaks in. The Landa inks give you the same look on ordinary board that you'd get on a premium grade of paperboard. So there's a cost saving available to our customers. Plus the seven-color format allows us to hit about 96% of the PMS, so there are no concerns about being able to hit brand colors."
Duckett says that real success with the new all-digital technology will require a certain amount of customer education because a lot of people just don't realize what digital technology permits. "I just got back from the Fancy Food Show, and on more than one occasion when we tell someone they don't have to order a half million pieces, they can hardly believe their own ears. We have to convince them that if they want 100, 5,000, or 100,000 cartons, all they have to do is let us know."

Companies in this article