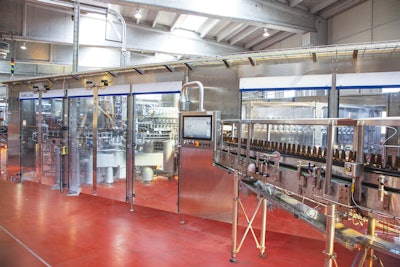 Increased productivity, coupled with flexibility and sustainability, were an absolute must-have for the leading Italian brewery. The new complete glass line from their long-term partner Sidel features an EvoFILL Glass filler and EvoDECO Cold Glue labeller. The line is installed at the company's factory in Bari and is intended to handle both returnable and one-way glass bottles. This is the only site where Peroni processes both returnable and one-way glass bottles.
Beyond the proven partnership, Peroni was especially interested in gaining benefits from two of Sidel's latest innovations. One is the EvoFILL Glass filler with its cutting-edge filling technology and hygienic, no-base design. Its level probe electronic filling valves ensure a very high accuracy while managing a wide range of filling set points without any adjustment or replacement of parts. This was particularly important for Peroni, as they are handling five different formats in Bari. Three of them (33-, 66-, and 50-cL) are in returnable glass as well as one-way bottles. The 75-cL format is always a one-way bottle and the 20-cL is always a returnable bottle.
The other Sidel innovation that appealed to Peroni is the new EvoDECO Cold Glue labeller. Launched in 2018, the solution ensures fast changeover times through its easy-to-operate station with quick-release tool-less label pallets, combined with an automatic label magazine loading system. "Equipped with three stations, EvoDECO Cold Glue ensures a high-precision application of the pre-cut paper labels on our embossed glass bottles," says Luigi De Liddo, Packaging Engineering Manager at Peroni. To control the label positioning according to the bottle's embossing, a custom feature was integrated within the labeller. It came together with a vision system and a solution able to correctly orient the bottle at the infeed for a perfect label application.
The turnkey glass line in Bari is running at 50,000 bottles/hour and has been designed according to an arena layout, offering full ergonomics and enabling it to be managed by only four operators. "Since we are processing also returnable glass bottles here onsite, we had to design a smart crate circuit regulation," says De Liddo. "Sidel stepped in and helped us manage crate accumulations during empty crate palletization. This approach has led to a seamlessly running line and maximum uptime." As an expert in complete solutions with a long history in beer lines, Sidel provided equipment from A to Z, complementing the filler and labeller with a decrater, a depalleitizer, bottle and crate washers, a pasteurizer, a cap feeder, bottle dryers, and a packer as well as conveying systems for bottles, crates, and packs.
For increased product quality and sustainability benefits, Peroni installed SWING®, a proven pasteurisation system that cuts energy consumption by 25%. Also in place is Sidel's EIT™ (Efficiency Improvement Tool), a strategic asset that helps any layer of the organization, from the CEO to the line operators, to see the status of the line and events occurring in real time, thereby improving production efficiency.
Antonio Martalò, Packaging Manager at Birra Peroni, sums it all up. "By choosing Sidel as our partner we realised productivity gains and massive flexibility improvements. No less important, we can now scale our production set-up according to the market needs. The project execution was absolutely smooth thanks to the continuous support offered by their team and their expertise in turnkey solutions for the beer industry."
Companies in this article