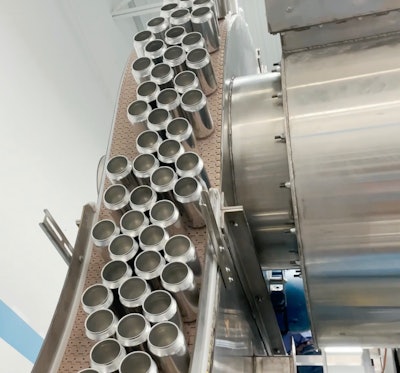 Direct-to-shape digital printing is coming on strong these days. Stay tuned for the May 2022 issue of Packaging World for two examples of this technology in action. But while most direct-to-shape digital printing firms rely on printing technology from a known OEM—Tonejet or Hinterkopf or LSINC, for example—Juno DTS chose a more adventurous route when they launched their business a few years ago. Nick DiBlasi, Co-founder and CEO of the West Chester Township, Ohio startup, puts it this way.
"We're a bunch of super nerds who decided to make our own direct-to-shape printing equipment. It's homegrown technology, meaning we designed our own circuit boards and our own hardware and software to drive things. And from the start we fully intended to run it ourselves as a commercial printer as opposed to selling it as an OEM would do. Taking objects that are not flat and printing on them is just not an easy thing to do, and we felt we had the best chance of success if we proceeded this way."
One thing that is decidedly not home grown is the ink jet print head used by Juno. It's the 1003 GS6 from Xaar. As for the UV-cured inks that are involved, these are considered proprietary. "We had to go through failure after failure before generating the right ink set," says DiBlasi.
When asked what kind of resolution the Juno technology is capable of, DiBlasi says this: "The Xaar print head is 360 DPI. But because we have such fine control over the surface being printed, we can in theory create any resolution anyone would ever need."
---
---
A number of elements in the Juno DTS technology fall into the "secret sauce" category, so they can't be described here in any great detail. But a look at how cans move through the process is still instructive. It's also quite impressive considering how sophisticated such things as depalletizing, palletizing, and robotic can handling are.
Depalletizing comes first, of course, and it's done by a DPL-1000 high-level bulk depalletizer from Codi. It sweeps layers of cans—389 per layer in the case of 12-oz cans—onto a conveyor at overhead level. The cans hit a rail that causes them to gently make a 45-degree side-transfer with the aid of a second conveyor belt that moves faster than the mass conveyor. This narrows the mass flow to a manageable width. So when cans reach the vacuum decline belt, it's easier to narrow them further.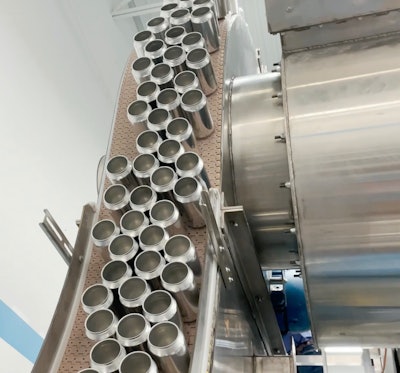 Once cans reach floor level, they enter a 12-ft-long accumulation conveyor that advances them five across. At the end of this conveyor is another conveyor whose four parallel belts each run at progressively faster speeds. This causes the cans to be gently single filed as they make the turn that leads them into the digital printing station.
Cleaning is crucial
Ahead of printing, however, some very important cleaning takes place. "The cans arrive coated with some of the oil or wax that the can makers use in the necking-in process," says DiBlasi. "If you try to print on top of that, nothing good happens. So we have developed proprietary technology to clean and pretreat the cans." Needless to say, this is one of those "secret sauce" areas that Juno is reluctant to talk about in any detail. The same reluctance applies where printing is concerned. What we do know is that printing is done on an intermittent-motion basis and that multiple modules are involved. It's this multi-module characteristic that makes it possible to handle 400 12-oz cans/min. DiBlasi adds that a variety of sizes are being printed, including 16-oz cans, 16-oz slims, and 32-oz crowlers.
As soon as cans are printed, they pass through UV LED curing lamps supplied by Phoseon. Then the cans exit the printing module by way of an Epson SCARA robot equipped with an end effector supplied by system integrator IQaE.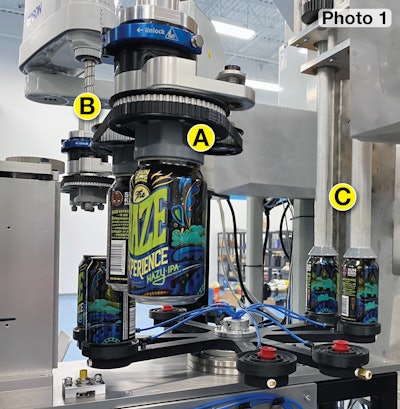 ---
---
These end effectors use spring tension to grip the inside neck area of the can, so it's a mechanical as opposed to vacuum principal. In Photo 1 the end effector in the foreground (A) holds two cans that have just been pulled from the printer. The end effector in the background (B) has just deposited its two cans on the outfeed vacuum transfer wheel. These two end effectors constantly reciprocate back and forth to provide a steady supply of cans to the vacuum transfer wheel. This wheel rotates clockwise to a position where another Epson robot has end-of-arm tooling (C) that plunges to the bottom of two cans so that vacuum pickup cups can affix themselves to the interior can bottoms. The tooling then places both cans in the carriers (Photo2) of the servo-driven dual conveyor supplied by Direct Conveyors.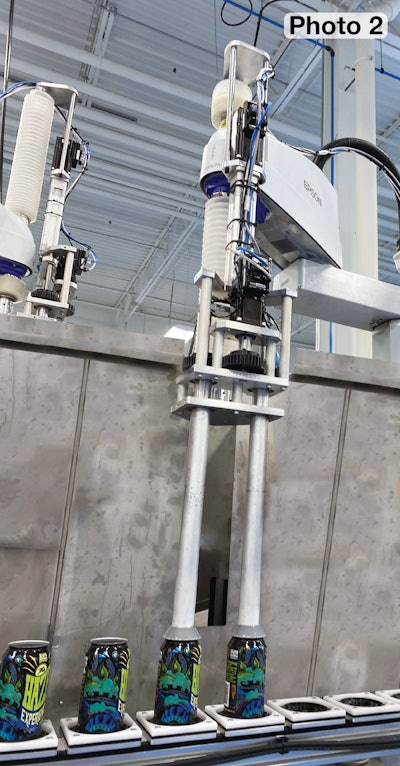 "These end effectors are servo-driven," notes DiBlasi. "So if we go to a new can size that requires a shorter or longer stroke to reach the can bottom, that change can be quickly made at the touch screen."
What's not visible in Photo 2 is the dual conveyor's second lane, which is actually right behind the steel wall visible in the photo. What is visible in the background of Photo 2 is a second Epson robot that is putting cans into the dual conveyor's other lane.
Each lane of the dual conveyor is independently driven by a closed-loop stepper motor from Oriental Motor. Each motor includes an integrated absolute encoder that produces highly accurate and repeatable positioning of each conveyor lane. This is critical in getting both conveyors to stop at a precise position for the robotic pick-and-place operation.
Held in the carriers of the dual conveyor, the cans at this point have been coated with a "highly cross-linked bake-on varnish" similar to what is used widely in the beverage can industry today. It safely traps the inks and protects against any scuffing.
Custom design
"Direct Conveyors did a great job of custom design involving servos and toothed timing belts that allow us to advance and accurately position the carriers just where they need to be for the next part of the process," says DiBlasi. The next part he refers to is a stop at a station where a two-axis gantry robot from
Macron Dynamics
uses vacuum pickup to pick 20 cans and place them on the infeed belt of a
HeatTek
oven that cures the varnish. Once relieved of their 20 cans, the 20 empty carriers travel back underneath the incoming flow of cans so they can be replenished with cans to be carried to the HeatTek oven. DiBlasi says that mastering this important transition into the oven was not exactly a walk in the park.
"One big challenge is that the oven conveyor is continuously moving," notes DiBlasi. "Originally we were pulling the end effectors straight up once the cans were released. But even though the oven belt is moving slowly, it still resulted in the cans being knocked over as the end effectors ascended. So we had to synchronize the servo motors responsible for the actuation so that the upward motion of the end effectors was compatible with the forward motion of the oven conveyor. " Very helpful in this crucial transfer of cans into the oven are the two VPL servo motors from Rockwell that actuate the Macron gantry robot. "They have power and encoder running through the same cable, which really simplifies things," says DiBlasio.
All that remains at this point is palletizing. Like depalletizing, it's done on an overhead system from Codi. According to DiBlasi, the palletizer is the result of a "unique development" by Juno and Codi. "It's an excellent piece of equipment," says DiBlasi. "It involves a vacuum elevator that turns the cans in this really neat S-shaped motion as it elevates them to the overhead palletizer."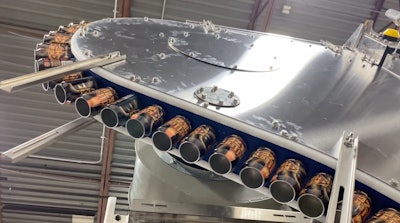 Now being finalized is the addition of an ionized air blast on the vacuum elevator that will clean out the inside of each can just before it gets palletized. "It's not really essential, because our customers clean the cans prior to filling," notes DiBlasi. "But why not seize every possible opportunity to ensure cleanliness at every step along the supply chain?"
One other initiative soon to be offered by Juno will be well received by beverage companies who, for a wide variety of reasons, find themselves in possession of cans printed with the wrong graphics. Typically this kind of thing happens when the graphics were suitable for a seasonal or sports-related theme and within a few weeks or months they become obsolete. Such inventory, historically at least, will likely just go to a recycler, or perhaps some beverage companies might be able to put shrink sleeve labels over the graphics. But what Juno will do is "mask" them in yet another of their proprietary technologies so that they can then be digitally printed just as bright stock cans are printed.
DiBlasi is the first to admit that getting to the point where Juno's at today, where digitally printed cans are rolling out the door, took considerably longer than he originally imagined. Covid-related supply chain issues were part of the reason. But perhaps the biggest hurdle was the simple fact that direct-to-shape digital printing is extremely difficult to do—especially when your goal is to do it at 400 cans/min. "One thing that helped us a lot was realizing early in the process that we weren't just building a printer here," says DiBlasi. "We had to build a complete system that took into account not just print heads and inks but also can handling and the all-important cleaning and varnishing steps. Had we just focused on the printer, we'd have gotten nowhere." PW
Companies in this article