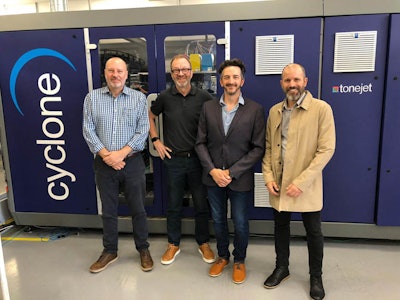 The system will give Northeast American beverage producers all the benefits of short-run digital can decoration without the high cost, waste, and recycling headaches that come with traditional labels and shrink-sleeve labels.
The Tonejet Cyclone system is scheduled for installation some time in October of 2019 and will be put through its paces at Solucan's purpose-built site, producing millions of unique customized cans.
The Solucan initiative supports the craft brewers and other beverage manufacturers of the region, says Sebastien Baril, president of Solucan. "We are focused on offering a cost-effective, environmentally-friendly solution to our customers and to theirs," he adds. "The government is looking for a recyclable solution and we have their support towards a better canning solution for the industry. Currently, beverage producers wanting to avoid labels have to purchase from the major can manufacturers, whose minimum quantities are far too large for any microbrewer or craft beer producer that we are working with. With the Cyclone, these issues are addressed – the system allows us to keep up with changing consumer habits, transforming packaging as we know it."
"We are now able to transform a beverage can into a totally digital portal," adds Jean-Francois Gaudreault, General Manager at Solucan. "Linking packaging to the digital world, accessible via your smart phone or laptop, is a total game-changer and provides a powerful marketing tool. In addition to using the space to promote events, marketing promotions, etc., you can include codes to link to augmented reality (AR) apps and even invisible codes and water marking."
The Cyclone is arriving at a critical time in Quebec, where there is pressure to increase packaging sustainability. The provincial recycling body Recyc-Québec is enforcing new environmental regulations, making some beverage containers obsolete. The plastic shrink-sleeves and pressure-sensitive labels currently used for short-run beverage can decoration have a high environmental impact and could become problematic when new standards are enforced. Cans produced using the Tonejet Cyclone system are 100% recyclable, providing a future-proof solution.
Companies in this article