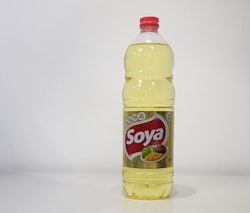 A new PET bottle for the Oleo de soja Soya brand from Brazilian agribusiness and food producer Bunge is said to be the lightest 900-mL bottle for edible oil in Brazil. According to bottle supplier Amcor, the custom-designed container for São Paulo-based Bunge is 22% lighter than competitive bottles while providing greater productivity and increased sustainability benefits.
Amcor says it responded to Bunge's industry-wide challenge to suppliers, developing a 14-g container that weighs four grams less than standard bottles. "This new bottle is a huge technological achievement because we were able to replicate the current bottle's shape and specifications but at a lighter weight," says Ivan Assenco, Amcor's R&D Process Coordinator. "During a highly focused three-year development project, we leveraged our expertise in R&D, design, and engineering to create a one-of-a-kind bottle for edible oil."
---
See: PepsiCo bottler lightweights PET bottles

---
According to Amcor, lightweighting is an important differentiator in the edible oil market. For Oleo de soja Soya, Amcor developed a new lightweight preform that maintained the same shape while optimizing top-load strength, wall thickness, material distribution, and stacking strength. The container required a high stretch ratio, so the team conducted a finite element analysis (FEA) study to optimize the design and meet wall thickness requirements. For the consumer, the redesign also maintains the same look, feel, and handling experience.
"At Bunge, we are always looking for possibilities to improve our performance at all operational levels of the company and at the same time reduce our impact on the environment," says Paulo Silvério, Director of Procurement for Bunge in Brazil. "In this project, we had many challenges, from designing a bottle with less plastic to introducing new filling technologies in our plants, but the result was excellent. Amcor responded to the challenge with a unique bottle that gives us a distinct advantage in the market."
---
See: Packaging for New Cooking Oil Line Demystifies Category

---
The new container reduces raw material usage by about 4.4 tons per year. As a result, Bunge improved its manufacturing efficiencies and reduced transportation costs.

Companies in this article