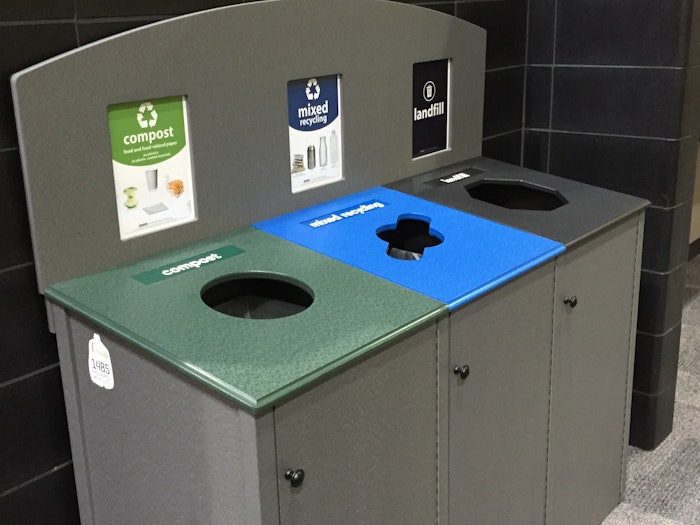 "Recycling has the ability to affect the greatest environmental change unlike anything out there." That's according to Michelle "Mitch" Hedlund, founder and Executive Director of Recycle Across America and a passionate advocate of recycling who spearheaded what The New York Times has called "one of the most important environmental fixes taking root today."
That "fix" is the creation by 501(c)(3) non-profit organization RAA of a society-wide system of standardized labels for recycling bins—a simple idea with the potential for momentous change. "Recycling has the greatest potential to change everything: CO2 levels, climate change, waste in the oceans, the depletion of finite resources, the protection of fresh water, energy usage, and more," says Hedlund. "Solar is great, wind is great. Going into other forms of energy is wonderful. But there is nothing, nothing that compares to recycling on all of these levels."
As Hedlund explains, however, the recycling industry is currently in a downward spiral, with the breakdown beginning at the bin. "Confusion at recycling bins causes mistakes, apathy, and skepticism, which leads to millions of tons of garbage thrown in recycling bins each day, crippling the economics of recycling and preventing manufacturers from being able to use the recycled materials," she says. "If we can fix the public's experience at the bins, it will auto-correct everything down the line."
Since RAA launched the labels in 2011, their use has grown exponentially, with schools, businesses, cities, and now even the state of Rhode Island adopting the system, which has proven to increase recycling rates by 50% to 100%, with a dramatic decrease in contamination.
Confusion at the bin has far-reaching implications
Hedlund first proposed her vision for a standardized label back in 2009 at a SWANA (Solid Waste Assn. of North America) Recycling Conference, where she presented attendees with a slide displaying hundreds of recycling bins. "None of them had a similar-looking recycling label on any of them," she says.
The slide is one she still uses when introducing RAA's initiative, to drive home the point that the U.S.'s miserably inadequate recycling rate—Hedlund says it may be as low as 22%—is a direct result of inconsistent and confusing messaging at the bin. "If the public needs to relearn what to do every time they approach a bin, then they'll treat each bin like a trash can," she says.
Recycling bins full of trash make it very difficult for recycling facilities to be profitable. As an example, Hedlund shares the story of a small recycler in Washington that struggles daily with contamination. "Every day, 550 tons of garbage—dirty diapers, half-eaten hot dogs, hypodermic needles, deer heads, left shoes—are having to be sorted out of the recycling," she says. "It's a serious problem."
The problem is so widespread, in fact, that in the state of California alone, more than 250 recycling plants have shut down over the past couple of months.
In an article, "The American recycling business is a mess: Can Big Waste fix it?," in the September 2015 issue of Fortune, author Claire Groden wrote, "Waste Management says that contamination of its recycling stream has doubled in the past decade. Now, an average of one in six items dumped in blue bins is not recyclable, gumming up processing facilities and jacking up costs. Some recycling facilities have to shut down once an hour so that workers can cut layers of plastic bags off the machinery. That's because of what Sharon Kneiss, the CEO of the National Waste and Recycling Association, calls 'aspirational recycling'—a habit of throwing non-recyclable materials into bins because they might or should be recyclable."
Recently, Waste Management closed down 25% of its recycling plants due to high levels of garbage thrown in the recycling bins.
Next in the chain suffering from the consequences of consumer confusion at the bin are brand owners and packaging suppliers. Contamination at the recycling facility can lead to lesser-quality and more expensive recycled materials. And, fewer recycling facilities means fewer available materials—right at a time when major brands are facing increased pressure from shareholders, NGOs, legislation, consumers, and others to reduce the environmental impact of their packaging.
"Ultimately the loop is not closing," says Hedlund. "There are good intentions. Companies don't want to deplete natural resources, but they are between a rock and a hard place."
Without a clean, affordable, steady supply of recyclable materials, brand owners often end up looking at other ways to make their packaging sustainable. "So they start lightweighting their packaging or changing the plastic materials. Every reaction they have, every deviation ends up creating more complexity and can even defeat the recycling system even more," Hedlund explains.
The last place brand owners want to see their packaging
So we understand what's not being done with recyclable materials. Just as bad is what is being done with them: Millions of tons of valuable materials are ending up in landfills and in oceans each year. According to a report, "Waste and Opportunity 2015," from advocacy group As You Sow, the country throws away $11.4 billion worth of recyclable containers and packaging annually.
"These are valuable resources," says Hedlund. "Let's take aluminum cans, for example, which are always recyclable. If you have six cans, that equals about a pound worth of aluminum. It's a high-quality material that's always worth bringing back into the system. But $1.4 billion worth of aluminum is going into landfills or is being burned each year. In the case of PET bottles, 2.5 million are going into U.S. landfills every hour."
For those items that don't end up in the landfill, nearly 9 million tons are discarded as litter and end up in waterways, storm drain systems, and eventually oceans. According to the Ocean Conservancy, six out of the 10 most commonly found materials in the ocean are easily recyclable in the U.S. Among the top-five most commonly collected items are plastic beverage bottles, food wrappers, and plastic bottle caps.
There are a couple of reasons why this is bad news for brand owners. Considering that global companies spend billions of dollars each year to make their products look appealing on shelf, the last place they should want to see their packaging is in pictures depicting ocean pollution. "It is the worst place for them to see their logos," says Hedlund. "It is this type of publicity that makes them look like the villains."
Another reason is that disposing of these valuable materials means more virgin materials will be required for packaging as the population increases to an expected 9.6 billion by 2050, further depleting natural resources. With this will also come an increase in CO2 emissions. According to Hedlund, recycling produces just a fraction of CO2 emissions compared to mining virgin materials.
It is for these reasons, Hedlund says, it is essential for brand owners and packaging suppliers to get on board with driving change by using their collective power to put pressure on the recycling industry to standardize.
Standardization as a tool for radical transformation
Another tool Hedlund likes to use to when explaining how standardization of recycling labels can address a range of issues across the supply chain is to provide examples of how, throughout history, and throughout various industries, standardization has been used to effect radical transformation.
For instance, she shares, before 1883, there was no standardization of time in the U.S. "In fact, across the country, there could be up to 800 to 1,000 different time readings at any given time from town to town," she explains. "For the railway industry, this resulted in inefficiencies such as missed trains and goods not being delivered on time, among other economic issues. Once time was standardized, not only did it result in a dramatic transformation of the transportation industry, but it also paved the way for technologies such as satellites, phones, and computers."
Hedlund designed RAA's system of standardized labels along with input from both industry leaders and end users to ensure the labels were simple and efficacious. Not wanting to reinvent the wheel, she took cues for the design from some of the more successful labeling programs. For example, she duplicated San Francisco's color-coding of blue for mixed recycling, green for compost, and black for landfill. Other colors selected include yellow for cans, red for plastic, and light blue for paper, among others. RAA's label system also includes labels for the recycling of non-packaging items such as batteries, CFL and fluorescent light bulbs, electronics, and printer cartridges, and labels for compostable materials such as food and yard waste.
Labels are designed first and foremost for clarity, with lots of white space, generic, clean images of package types, and lower case letters. "We made it a point not to put branded products and packaging on the labels, because it instantly clutters the label and confuses the eye. And because recycling shouldn't be a war over branding space," Hedlund says.
There are a number of standard label versions, each available in four sizes, designed to address a multitude of recycling systems. The custodial-strength vinyl labels are available for sale online at the RAA site. In addition, Office Depot will soon begin offering the standardized labels to its accounts nationally.
The labels have been created primarily for bins—both out-of-home and residential. Meanwhile, the Sustainable Packaging Coalition has designed labeling for primary packaging with its How2Recycle program. Hedlund says RAA and the SPC have had a number of conversations. "I think what we are doing is really complementary to their program without competing with them," she says. "They are both great solutions."
Label use grows organically, gains supporters
RAA's simple fix has drawn a huge host of supporters—from businesses to municipalities to schools to celebrities—virtually all by word of mouth. "To this day, I've only called on one company to introduce the standardized labels," says Hedlund. "We have just watched this organically grow. We've watched it become a word-of-mouth solution. It is becoming a best practice from one company to another."
Among its followers, Disney is using the labels in its employee areas across its entire 40-square-mile location in Florida, as well as at its Disneyland employee areas in Anaheim, CA, and soon at all of its enterprises, including Pixar, ABC, and Disney Motion Pictures. Other users include NBC Universal, Bank of America, and Hallmark, which have begun rolling out the labels nationwide, and Whole Foods, which is using them in Florida and in the North Atlantic, with the Midwest soon to follow. To date, more than 400,000 schools, K-12, are using the labels across the U.S.
In 2015, Sony used the label at its PGA tournament, which attracted around 55,000 attendees over three days—the same number as in 2014. However, through the use of the labels, they collected four times more glass bottles, six times more plastic bottles, and 14 times more aluminum cans than in 2014. "Over the three-day event, they collected 1.4 million cans, which is about $175,000 worth of aluminum," says Hedlund. "That's just a microcosm of the impact of this solution."
In early 2016, Rhode Island announced it will be using the standardized label across the state, including locations such as schools, parks, stadiums, government offices, libraries, and more. The label will also be used for curbside residential recycling bins.
Another exciting development for the program is in the area of consumer awareness. With the endorsement and support of 50 celebrities, RAA has rolled out a PSA campaign titled, "let's recycle right!®," with signage beginning to show up in airports, such as Orlando International. Among those donating their time are actors such as Angie Harmon, Kristen Bell, Ian Somerhalder, Johnny Galecki, and Anthony Mackie, seven-time Grammy-winning musician Alanis Morrisette, and athlete, actress, and fashion model Gabby Reese, among many others. As Hedlund explains, it's being developed to be the next "got milk?" campaign, with celebrities that really want to save recycling and make it thrive.
In April 2016, RAA held an event in Los Angeles that included a celebrity photo shoot for the campaign, with live digital streaming of the action on billboards across America donated by Lamar Advertising Co. In 2015 alone, RAA received $13 million worth of free billboard advertising for its PSA.
"We're trying to rebrand recycling, and we're going to do it in a really cool and magnetic way that makes people excited about recycling again," Hedlund says. "It's strong, it's contemporary, and it's sexy in some cases. Whatever it takes."
For the immediate future, Hedlund says RAA's goal is to work with states and local municipalities to help them focus on collecting those materials that will always be recyclable, to "go for the gold."
She says, "We have an opportunity to see another change—a dramatic, systemic change—with one more standardization, and that's what we're working on right now with the standardized labels."