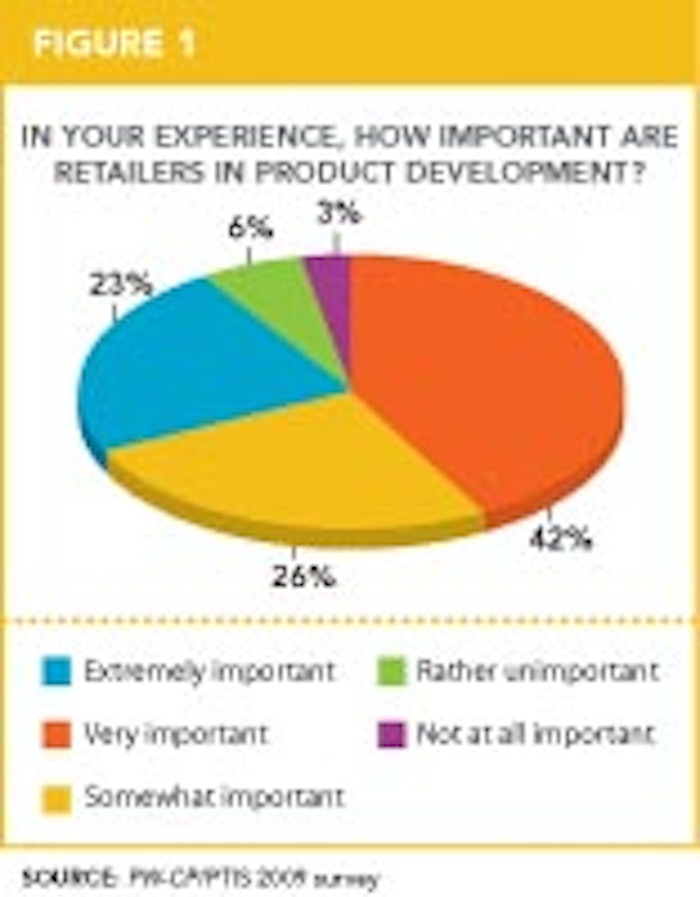 But what are the ramifications for contract packaging? For product manufacturers that purchase contract packaging services, one important answer could be more innovative packaging. That would be a welcome development at a time when some CPG companies claim that retailers impede such innovation—a contention supported by the survey results. Packaging suppliers and service providers, such as contract packaging companies, can play a role in package development and innovation by drawing on their extensive exposure to individual retailers' packaging preferences and identifying opportunities that drive growth across categories.
But for that to happen, service-buying teams at CPG companies who are contemplating a make vs. buy decision for their national brands must also consider how the surge in private-label sales might impact their own production lines. Then, they need to analyze the capabilities of prospective contract packaging firms and gauge the input of suppliers aligned with their targeted contract packaging companies, before making their decision.
Diverse responses
PW/CP conducted an on-line survey in July 2009 with the assistance of Packaging & Technology Integrated Solutions (PTIS). Responses totaled 209, and they broke down this way: 33% were from CPG companies of different sizes, 27% from suppliers, 10% from retailers and the rest from a variety of areas, such as contract packagers, equipment manufacturers, and consultants. Top-line results from the data and the analysis show:
• 65% of respondents overall say retailers are very or extremely important in product development (see Fig. 1). The figure rises to 67% for retailer respondents and dips slightly to 60% for CPG company respondents.
• Asked about package development, 65% of all respondents agreed retailers are very or extremely important (see Fig. 2). 60% of the CPG company respondents and 57% of the retailer respondents concur.
• About 60% of respondents on the whole said private-label products present an opportunity for their business (see Fig. 3). The figure was 53% for CPG companies and 52% for retailers.
• About 24% of respondents overall say retailers hinder product and package innovation (see Fig. 4). Among CPG company respondents, 31% agreed, as did—candidly—14% of the respondents from retailers
• Asked who should foot the bill for "retail-ready" packaging, CPG company respondents were more likely than retailer respondents to agree the costs should be shared universally (see Fig. 5). Retail-ready packaging increasingly is a retailer requirement in which products are shipped in shelf-ready cartons to reduce in-store labor costs.
These results help paint a picture of changing fundamentals in bringing products to the store. On one hand, retailers know their shoppers well and are beginning to understand the important role packaging can play in a marketing strategy, which is one factor driving private label's growth. On the other hand, the increase in own-brand sales—they rose 10% to $83 billion in 2008, according to The Nielsen Co. —is forcing national brands to look harder at ways packaging can increase brand value and continue to make national brands desirable for consumers.
"Too many national brands don't value packaging as much and focus on squeezing costs out of packaging," says Brian Wagner, vice president at PTIS. "For both retailers and CPG companies, the ones who wake up and understand packaging's value as a brand differentiator, and as an investment, will win."
Jonathan Asher, vice president at Perception Research Services, agrees. Speaking to buyers and sellers of co-packing services at a conference in September at HBA Global Expo in New York, Asher said bluntly that national product manufacturers will have to leverage their supply chains more effectively if they want to compete with the stronger private-label brands. "National brands will have to innovate continually," he said. "Innovation is key to competing against private-label success."
The impact on packing lines
Product and packaging innovation are driving improved private-label sales by improving brand value beyond lowest price. Recent national polls project that many consumers who have made the switch won't revert to national brands when the economy bounces back. So, as private-label brands gain market share, it's also dwindling proportionately for national brands.
Co-packers often have packaged private-label products because retailers generally don't operate their own packaging lines. But as retailers' brands become more sophisticated, who packages them might be changing in some cases. Part of the reason is the uneasy relationship between retailers and owners of national brands. Retailers are functioning not only as an ally to CPG companies by stocking national brands in their stores, but also as a competitor with their own private-label offerings.
That double-edged sword has many contract packaging companies feeling caught in the middle. In the PW/CP survey, co-packers expressed apprehension about providing innovative packaging ideas for a retailer's own brand at the risk of upsetting a national-brand customer that markets a competing brand and wants exclusivity with a co-packer apart from the retailer's own brand. Contract packagers that service both retailers and national brands are scrambling to enforce confidentiality agreements on their packing lines and in their warehouses.
But some packaging service providers are thinking twice about potential conflicts in working both sides of the aisle. One large contract packager tells CP it steadfastly rejects inquiries from retailers for this reason.
"Retailers come to us all the time, but we've promised our CPG customer base we won't compete against them," says Tim Koers, chief operating officer at The Visual Pak Companies, with facilities in the Chicago and Atlanta markets. "In the end, the retailers respect that. We have to be consistent."
PTIS' Wagner explains an emerging and compelling second reason why private label's sustained growth could impact packaging lines in 2010. Production capacity might be shifting because product volume declines for some national brands, heightened by the recession, increasingly have idled CPG companies' production lines.
"The larger brand owners may strategically contract out their excess capacity to retailers for their private-label brands. For new products, most of the national brands are increasingly using more contract packagers," Wagner observes.
He reasons that as competition increases among CPG companies and between national brands and retailers, product manufacturers are looking to produce fewer of their own products internally and outsource more production to contract packaging companies. Historically, CPG companies' relationships with contract packagers have been tactical, such as adding capacity and capability only as needed and basing procurement primarily on price. Increasingly, product manufacturers are forging strategic partnerships with co-packers to optimize production efficiencies and introduce cost savings and manufacturing stability over time. In a strategic approach, price is merely one measurement when qualifying a co-packer.
Regardless of whether product manufacturers use either the tactical or strategic method outsourcing their packaging needs, contract packaging companies' lines provide the flexibility CPG companies need to answer retailer demands for specialized and short-run packaging. In turn, that frees up capacity on CPG companies' lines to produce more private-label products.
Wagner says decision-makers at CPG companies who assess and purchase co-packing services for their national brands should carefully consider this whole scenario as they evaluate the decision to make or buy. One aspect they should investigate in the equation is line-speed flexibility. This is an area in which contract packaging companies might be able to offer the variations that national brands need.
One recent example is Cloud Packaging's purchase of Toll Packaging Services. Vicky Smitley, vice president of sales and marketing at Toll Packaging, tells CP that the merger will combine Cloud's high-speed lines, running at 3,500 units/min to 5,500 units/min, with Toll's midspeed lines, which produce fewer units per minute.
An analysis of the survey data suggests that one task confronting service-buying teams is learning about untapped innovative packaging ideas that suppliers and contract packaging service providers can offer.
"The competition has changed," Wagner notes. "The retailer has become a bigger part of the contract-packaging picture, and it's all becoming more complex. National brand owners who are looking at outsourcing their packaging operations will have to continually ask themselves, 'Who is my competition, and what are they doing?'"
Companies in this article