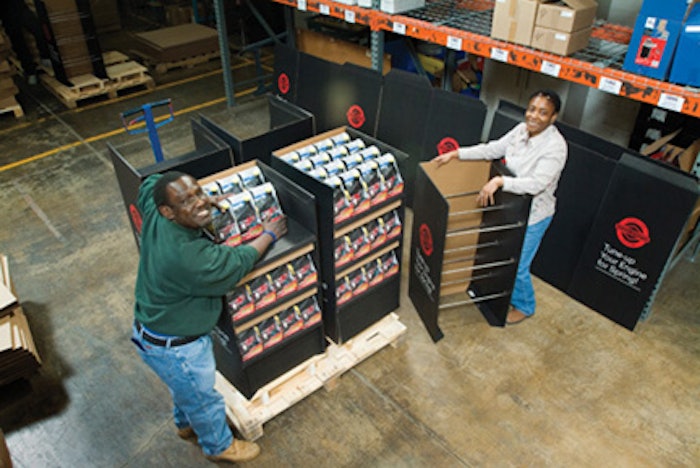 Goodwill Industries of Southeastern Wisconsin
serves people with a range of physical and cognitive disabilities. For those who are higher functioning, Goodwill provides training programs, job coaching, and work opportunities, both onsite at Goodwill locations and offsite with other local companies.
Many of these functions come through its contract packaging operations, but the agency performs other jobs, as well. Goodwill, if necessary, will provide modifications to assist a person with a disability in completing the necessary job tasks. Often, only minor modifications to the workplace are necessary to accommodate an individual with a disability.
Disadvantaged workers are another population Goodwill serves. Examples of individuals with disadvantages include people who are chronically unemployed, those who lack education and/or job skills, face language barriers, and live in poverty.
Many of the programs and services Goodwill provides for people with disabilities and disadvantages are funded through federal and state programs and initiatives. There are, however, mission-related services that are funded entirely by Goodwill, such as the Goodwill Workforce Connection Centers. The agency opened three Workforce Connection Centers in response to escalating unemployment in its southeastern Wisconsin communities. No referral or funding source is required for these services. Anyone who needs assistance with a job search can walk in and have access to free resources such as a computer, fax machine, and phone, and help with resume development, interviewing skills, and onsite interviewing.
Customized services
Many individuals who Goodwill serves will transition out into the community at local businesses. "Many individuals will become employed in the community, and some will remain with us at Goodwill," says Vickie Volpano, vice president and chief operating officer. "We customize our services and program to the individual's needs and abilities, so it really depends on them. Goodwill doesn't believe in the 'cookie cutter' approach to serving people with disabilities or disadvantages, so our services are really tailored to the specialized needs of each person we are serving."
Packaging, assembly, logistics, inspection, and reverse logistics are done at all four Goodwill facilities in Wisconsin. The difference between each facility is the equipment used, experience of personnel, and the number of shifts being run at that particular location. For example, 21st Street in Racine is a three-shift operation, and the James O. Wright Center (Milwaukee North), Vogel (Milwaukee South), and Kenosha are one-shift operations.
"We have onsite maintenance support at each location, running simultaneously to the shifts," Mrazek explains. "We do move equipment as needed for different projects and work with our customers to acquire equipment as needed."
The equipment and capabilities at each facility are: Center for Work and Training–James O. Wright Center has blister packaging, RF sealing, shrink wrapping, plastic bagging, kitting, and light assembly operations. The Center for Work and Training–Vogel Avenue provides shrink-wrapping, bundling, auto-bagging, kitting, light assembly, electrical assembly, and document-destruction services. At 21st Street in Racine, the workers do shrink wrapping, blister packaging, cartoning, gluing, auto bagging, labeling and coding, sonic welding, and automated assembly tasks. The Kenosha facility is essentially the same as Racine.
The location for any particular job is determined by customer preference, transportation costs, necessary equipment, type of work, employee skill levels, and facility capacity. Some customers, such as SC Johnson, are local, but many are not. The benefits of Goodwill's contract packaging operations do not accrue solely to the employees. The business offers many advantages to customers, as well. "Goodwill Manufacturing prides itself on exceeding customer expectations in the areas of cost, quality, and responsiveness," says Kyla Mrazek, marketing coordinator. "Qualities are of critical importance when companies are choosing someone to partner with on their projects. Companies that work with Goodwill receive the added benefit of supporting our mission by providing work opportunities to people with disabilities and disadvantages, positively changing people's lives and improving our community. As organizations are required to show greater transparency and accountability, many have started to look beyond the bottom line and consider their long-term impact on the community.
"We are often commended by our customers for our continuous improvement efforts, which are a key component of Goodwill's workplace culture," Mrazek continues. "We take it seriously, as you can see from our ISO 9001 certification, as well as our many other awards and certifications. Not only do Goodwill's quality practices help the organization reduce waste and improve its bottom line, but the team-based approaches of many quality practices empower employees, including those with disabilities and disadvantages, to participate in improving their workplace." Two practices that Goodwill uses most frequently in its continuous improvement efforts are lean manufacturing, which concentrates on eliminating waste to provide the highest quality products and services at the lowest cost with the shortest lead times, and "kaizen," which makes ongoing incremental process improvements and sets and achieves increasingly higher standards.
CEA in New Jersey
CEA Packaging, the business arm of the Center for Educational Advancement (CEA) in Flemington, NJ, has been providing contract packaging, assembly, and inspection services for the past 40 years. "The engine that drives our continued success is a diverse group of dedicated individuals with disabilities or disadvantages," says Michael Skoczek, president and CEO. "They show up to work on time every day, excited and ready to start working. Some arrive in their own cars while family members or caregivers drop others off. Many of them get here on The Link or by Somerset County Transportation. They all love their jobs and are proud of the services they provide to CEA Packaging's customers. Most important, they are grateful for the opportunity to earn a paycheck."
Operated as a private, not-for-profit social business enterprise, CEA employs individuals with physical, emotional, and developmental disabilities in its contract packaging facility in west-central rural New Jersey. The agency also runs a special school for 14- to 21-year-olds with learning disabilities; profits from the contract packaging operation fund the school, which is accredited by the state of New Jersey. CEA defines disability as anything that hinders a person's ability to obtain or maintain employment.
CEA Packaging employs an "integrated workforce" of about 60 people with disabilities and a variable number of non-disabled hourly workers to help ensure that the timing and other standards required by customers are always met, Skoczek explains. Quality control and timely processing are important at CEA Packaging. Its 30,000-sq-ft facility includes low-particulate clean packaging rooms where test kits for the medical industry are assembled, limited-access areas where tubes and jars for the cosmetics industry are put together, and various specialized pieces of machinery for serving the food and pharmaceutical markets. Roche Molecular Solutions is one notable customer.
About 33% of CEA Packaging's workforce is regular hourly employees, while two-thirds are disabled or disadvantaged. Typically, a couple of disabled employees will work side-by-side with an hourly employee. The disabled employees, who often must rely on public transportation and travel significant distances, work between five and six hours each day; hourly employs work the normal eight hours.
"We run CEA Packaging the same as any other for-profit contract packager," Skoczek says.
High volumes delivered
Jim Cavanagh, sales director at CEA Packaging, explains that many area people do not know how large, varied, and complex the packaging business is. "Last year, we accepted and shipped more than 900 truckloads of products. Every day, our employees work with high- and low-tech equipment and pride themselves on meeting the strict quality standards our customers expect," he says.
In addition, CEA Packaging has bundled more than 57 million servings of repackaged aseptic, single-serve juice boxes, attached more than 575,000 package inserts which were reworked due to FDA mandated changes, and capped 4.7 million specialty products for brand-name cosmetics companies. At one time, the company repacked 48,850 kits in eight days—all done by hand.
Skoczek says the benefits of the contract packaging enterprise accrue to both customers and employees. First, people who otherwise would be accepting welfare or unemployment checks are gainfully employed. To them, he says, the experience is life-altering. "You can see their self-confidence grow" as they learn and practice new skills. For customers, the strict adherence to quality control, "which comes from so many hands and eyes on the product," is undeniably a boon.
Skoczek and Goodwill's Mrazek sum up the benefits of training and working with disabled individuals: "We at CEA are seeking to finally overthrow some of the preconceived notions that still exist about our friends and neighbors with a disability. We believe, and can prove, that people with various disabilities can be members of a viable and dedicated workforce performing high-quality, market-priced work," Skoczek says.
Mrazek concurs, adding, "Studies have shown, and it has been our experience time and time again, that people with disabilities can be highly productive and some of the most committed workers. At Goodwill, we focus on a person's ability, not their disability."
The author, Mary Ann Falkman, is a veteran packaging industry journalist. Contact her at 630/653-5950 or maf184@aol.com.