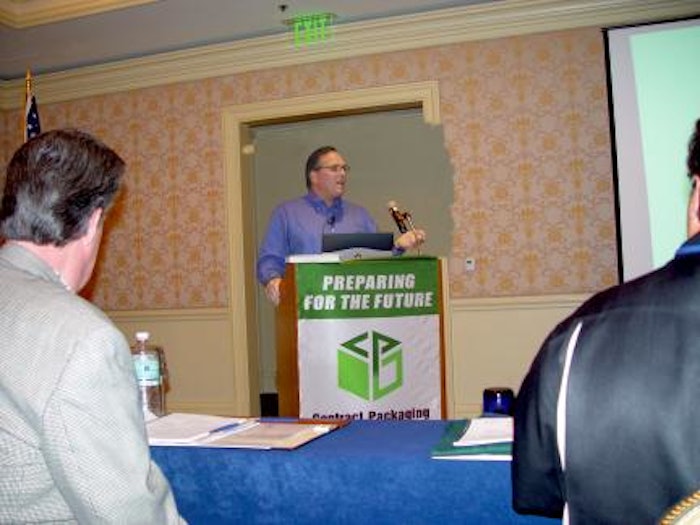 It could be processing, packaging; material handling equipment; materials, containers, or components, such as closures; pumps; or other fitments. It also may be possible to ask for help with a job that could require another member's assistance.
Neither the equipment nor the material availability is intended nor expected to impact associate (supplier) member businesses. Why? First, because the quantities are expected to be limited and one-time sale experiences, and second, because associate members also can participate in the buying and selling activity. Transactions will be secure on the Contract Packaging Association Web site, with all member companies having a secure password in order to participate.
This online tool will be available shortly, with additional details to follow on www.contractpackaging.org.
CPA WELCOMES NEW MEMBERS
Since May 2007, the following companies have joined the
Contract Packaging Association
• Aerotek Performance Resources Advanced Food Services
• American Distribution and Warehousing Services
• Ankerpak
• Associated Packaging
• Bonded Pac
• Boston's Best Coffee Roasters
• Central Graphics & Container Group
• Concept Packaging Group
• Custom Products
• DePaul Packaging
• Flexpack USA
• Hormel Contract Packaging
• Kodak
• Liquipak
• Lonza
• Marketing Alternatives
• Nor-Cal Beverages
• Opportunity Partners
• Outlook Group
• Research Packaging
• Rizzo Packaging
• S.P.A. Inc.
• Stapleton-Spence Packing
• Tegrant Corporation–Alloyd Brands
• Tulkoff Food Products
Welcome to the club! Current corporate member count stands at 155.
2008 Annual Meeting
Ahoy, matey! You are invited to set sail with Contract Packaging Association members, guests, and spouses for a treasure-filled business program and networking opportunity necessary to advance your business. Social and recreational activities are certain to shiver your timbers.
Save the dates of April 25-28, 2008, and dust off your compass. Set your sights on the Marriott Biscayne Bay Hotel & Marina in Miami, FL. Look for regular updates at www.contractpackaging.org/annualmeeting.
One of the premiere networking and recreational highlights will be a deep-sea fishing excursion on the Sunday afternoon of the meeting.
A photo and details of the impressive vessel are available on the Web site as well.
CPA officers, directors in place for the fiscal year
Included in the group of seven CPA officers serving on the association Board of Directors during 2007-2008 fiscal year are John Mazelin, president; John Riley, vice president; Sean McKeon, treasurer; and Stan Zelesnik, secretary. Directors are Joe Jaruszewski, Vic Stalam, and Chris Nutley. A staggering of terms has been put in place to avoid a complete turnover of the Board of Directors.
Board members continue to have ongoing committee responsibilities. These committees address virtually all business conducted and initiatives implemented by the association. The four committees are: Management, chaired by John Mazelin; Marketing, spearheaded by Chris Nutley; Meeting, chaired by Joe Jaruszewski; and Membership, led by Sean McKeon.
Volunteers are needed on all committees. If you would like to help, please contact Stan Zelesnik at 630/696-4008 or szelesnik@contractpackaging.org.
CPA board approves second phase of industry study
The Contract Packaging Association has given the green light for phase two of its study on trends and developments impacting the industry. This next phase will concentrate on contract packagers not currently members of the association. These results will be combined with the results of phase one, as well as compared and contrasted with them.
Those companies that participate in the survey will receive complete results at no charge. All others desiring the results will need to pay a fee, which hasn't yet been set. It will be more than the $1,000 charged for the report on phase one.
Information of value also will be included for suppliers to contract packagers—CPA Associate Members. It is hoped that at least preliminary results can be presented at the association's 2008 annual meeting, April 25-28, 2008.
The committee handling the industry survey continues to be chaired by John Riley. [CP]
Companies in this article