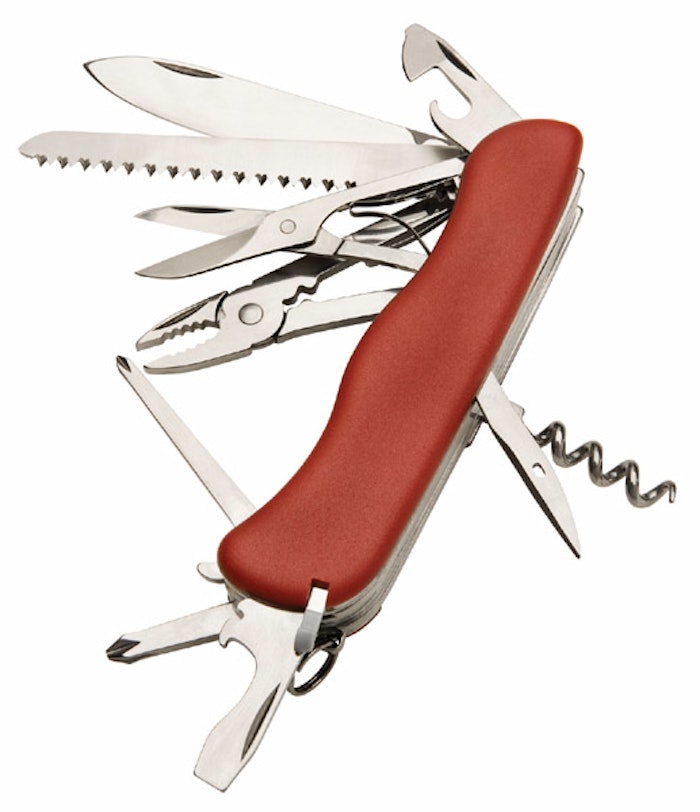 Short-run and custom packs are becoming more widespread—and economically feasible—as retailers, and by extension product manufacturers, transform the way they market products by turning to contract packaging.
Special pack sizes and limited-time multipacks are creating more opportunities for consumer packaged goods companies to gain wider distribution for their brands. In the process, brand owners can tap outside sources to test new or differently packaged products cost-effectively without having to invest heavily in new packaging lines and labor.
In the Southwest, Komplete Packaging is one of the companies providing product manufacturers with this flexibility. Contract packaging is a growing part of the company's business and accounts for nearly 70% of total sales. The Dallas, TX-based company complements its packing capabilities with thermoforming and labeling operations.
To accommodate customers' growing need for product packaging versatility, Komplete Packaging's production-floor operations change daily. Each day, the facility typically runs five to eight highly adaptable production lines each day, They are operated by a combination of on-staff and hired-by-the-project workers. About 90% of the machinery inside the sprawling 500,000-sq-ft plant rolls on wheels to allow frequent changes in line configurations.
Such a change-on-a-dime setup enables Komplete Packaging to handle a lot of secondary and custom display packouts, as well as contingency work, for products in personal care, food, beverage, home repair, and consumer electronics. A good deal of the work in progress when Contract Packaging visited the company entailed shrink film. Ron Robertson, senior vice president, believes printed shrink film is becoming a strong area in which to operate because brand owners want improved visual "pop" on their packaging. The need is acute in the wider aisles of superstores, club stores, and other high-volume retailers. Printed shrink film is one material that provides the gloss and sharp images that call attention to compelling graphics from a distance.
Secondary-packaging capabilities
 But beyond visual appeal, retailers also want product appeal. They are demanding custom packs designed especially for them, to get shoppers inside their doors. Contract packagers such as Komplete Packaging offer the line flexibility that enables brand owners to change product quantity or variety and package size quickly to meet current requirements.
"We do a lot of secondary packaging for the food industry," Robertson says. We erect floor and pallet displays for mass merchandisers and club stores. Customers often send us 24-pack cases, and we disassemble them and arrange them into variety packs in displays."
Confidentiality agreements prohibit Komplete Packaging from identifying specific customers. But Trudy Lambert, customer relations manager, cites one large soft-drink manufacturer that asked the co-packer to construct special display pallets mixing 1-liter bottles of five flavors of soda.
The bottles arrived at the plant in master shippers, so they needed to be removed from their cases. Display pallets had to be assembled, with the bottles arranged in a U-shaped pattern on the pallet so consumers could see each flavor variety. Finally, corner posts and graphics panels, sourced from an outside vendor, completed the pallet, which was then shrink-wrapped for delivery. Lambert says the finished display satisfied a demand becoming more common among high-volume retailers—the so-called "360˚ pallet," shoppable from all four sides to maximize sales impact.
Such orders require speed-to-market because the multipacks satisfy either a limited-time promotional window or keep high-volume retailers in stock. This is one area that's growing Komplete Packaging's contract packaging operations. The company can ramp up and down operations to meet sales forecasts.
Custom-pack operations
 Besides variety and promotional packs, product manufacturers also are turning to Komplete Packaging for custom pack sizes. Robertson outlines several scenarios in describing contract packaging's value in developing custom packs for stores today. In the first example, Wal-Mart wants macaroni and cheese in a six-pack, and a dollar store requests two-packs. Yet, a product manufacturer's own production lines are set up to produce only six-packs. Second, Wal-Mart requests 18-packs of soft drinks or bottled water, but the product manufacturer's packaging lines are engineered to produce only 20-packs.
Currently, Komplete Packaging is also getting requests for two-, four-, six- eight-, 10-, and 12-packs from various food and beverage customers. Often, product manufacturers can't produce these various pack sizes in-house. It's the same story in household supplies, says Mohammad Kamal, company president. Wal-Mart wants 17-count packages of paper plates versus the standard 18 at other retailers, to gain a shelf edge with a lower per-pack retail price.
In each of these examples, time to shelf is critical, but the risk that the product will fail is relatively low. The product manufacturer calls on Komplete Packaging for the initial production, and possibly more.
These "trial work" projects are both a blessing and a challenge, Robertson says, and they sometimes require the use of partner companies. Graphic design and package prototyping are referred to Virtual Packaging. Then Komplete Packaging validates the ensuing design's ability to run on its own machinery.
"We might say, 'That's a great design, but did you also think about A, B, and C as valuable alternatives?'" Robertson notes.
Customers can turn to the co-packer to validate that the packaging and financial metrics work on the right production line, but that validation can also eventually return a project to the customer's own in-house lines.
Kamal adds: "If it's feasible to do it in-house, our customer will add that line in. Most of the time, they come to us and say, 'This is our plan.' They want us to start it up for six months."
Such is the ebb and flow of contract packaging work. Komplete Packaging also enjoys success in pressure-sensitive labeling, with a lot of the business coming from bottles of household cleaning products. Typically, empty bottles arrive at Komplete Packaging from the customer. They are labeled and sent to another vendor for filling.
The strategy in appealing to specific customers involves approaches that reduce costs during packout. Lambert mentions that Komplete Packaging is saving a hair-care company money by adding flexibility to labeling operations for the bottles. The hair-care company sends labels for three different products, but each is applied only as needed.
"Product demand changes. To prepare all those bottles 10 or 12 weeks out, what if they sell more of this or more of that? That's why we want to stay flexible in labeling these bottles," Lambert says. "They're trying this for two or three months."
Elsewhere, the thermoforming department designs and produces custom clamshells and blister packs. The contract packaging operation then fills and seals the packages for packout to stores. Thermoforming has a stock program to enable clamshell and blister ordering in quantities for small custom runs.
"Our thermoforming and contract-packaging divisions play off of each other," Lambert says. "We help each other."
The production floor at Komplete Packaging is also versatile in its growing business of producing stick packs. The company creates condiment kits for two major U.S. air carriers. Stick packs of sugar and powdered dairy creamer, as well as stir sticks and napkins arrive in bulk bags at the plant, where they are separated and repacked as condiment kits for use aboard airplanes.
Cost-reduction tactics
 While the company assesses emerging packaging trends for new customer opportunities, a prime area of current focus is answering customer demands for reduced packaging material costs in the following ways:
• During the past several months, Komplete Packaging has switched some customers from chipboard to printed film secondary packaging. Besides high graphic impact, Robertson says, customers who are going this route find they are saving 30% in material and labor costs. At the plant, the film-wrapping machines are running faster than the cartoning machines, Robertson says, and they use fewer people. They are running 24-pack cases of soft drinks shrink-wrapped in polyethylene film, at 20 cases/min and two-packs at 50 cases/min. That compares with about four-pack chipboard carton multipacks running at about 15 cases/min.
• For other customers, visual awareness is also important inside a clear package. They might want the product suspended inside a thermoform package to call more attention to it. Typically, plastic components—not always recyclable—are the materials of choice for achieving this product effect, but Komplete Packaging is working more paperboard components inside the packaging.
"We're trying to go green, and we're watching the market trends," Robertson says.

The author, Jim George, is the editor-in-chief of Contract Packaging magazine.
Companies in this article