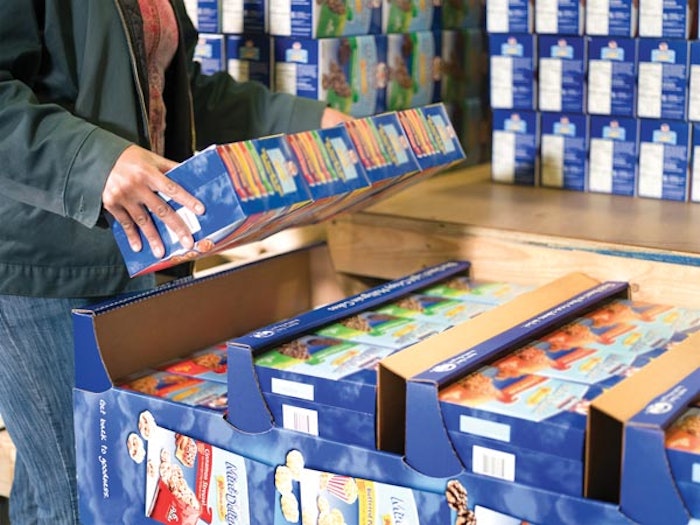 Contract manufacturers and packagers often must ramp up production to accommodate increases in product demand. Sometimes this demand is planned and totally expected, such as an increase in seasonal sales. At other times, however, the need for increased capacity arises unexpectedly, as in a product launch that has proven successful beyond expectations. Upfront careful planning and meticulous research are key to handling these production increases smoothly and successfully.
However, without a contingency plan in place, what should be a serendipitous turn of events could become a monster headache. Two co-packers and one former consumer packaged goods (CPG) executive seasoned in contract manufacturing and packaging relate their experiences with capacity increases and offer some welcome advice.
Foremost, they all agree, hire the right contractor to handle your needs—now and in the near-term future. Following are suggestions on what to consider to meet fluctuating product demands.
"Available capacity, quality, and financial stability should be the three most important factors for consumer packaged goods companies searching for overflow volume needs," says Nicole Lemus, director of sales-contract manufacturing at Century Foods International,  a Sparta, WI, division of Hormel Foods Corp.
"It is of the utmost importance that the contract packager understand the ultimate goal: Never let there be a lapse of delivery to retail," Lemus adds. "Typically, when excess volume is needed, it means product sales are doing better than expected. This is good news for everyone. It is imperative that the contract packer has experience working with retail sales, tight timelines, and supply chain pressures. CPG companies need to rely on quality and not expect anything less from their chosen co-packer than their internal requirements dictate."
Assessing value characteristics
Robert Pericht, senior vice president, warehouse operations at Saddle Creek Corp. , Lakeland, FL, further adds that during their qualification process, brand owners should ask prospective contract packagers to demonstrate four value characteristics that signal a quality operation.
• Flexibility. The co-packer should be able to show an ability to change staffing and adjust processes easily to handle excess capacity needs of its clientele;
• Agility. The company should be able to prove its ability to respond quickly to changing needs;
• Aptitude. The co-packer should demonstrate that it has the right knowledge to handle the job. The packer also should be able to obtain the right equipment to demonstrate that they understand the process as well; and
• Ingenuity. The company should be able to explain how and why it is good at what it does.
"Don't be afraid to ask 'how' and 'what if.' Our customer base really depends on us to bring all of this to the table," says Pericht, referring to the four value characteristics. "As a contract packager, you have to have these characteristics, or you won't have a long-term relationship with that customer."
Saddle Creek provides warehousing, transportation, third-party logistics, and contract packaging services. The Saddle Creek-owned and -managed facility in Harrisburg, NC, has several contract packaging initiatives and is the company's largest contract packaging operation. SCC also has contract packaging relationships at its Atlanta; Dallas; Macon, GA; Florence, NJ; and Lakeland, FL locations.
"To be good partners, communication is key," adds Pericht. "We have daily discussions and phone calls with our customers. We take a very proactive role because their needs are always changing. The co-packer should be an integral part of the planning process. They should be represented in meetings about scheduling and planning."
John Farren, principal at Farren Consulting Services, North Andover, MA, draws upon his decades of experience in packaging at Gillette to offer additional insight.
"You are looking for the capacity to handle what you need," he explains. "Start by telling the prospective co-packer exactly what your requirements are. Then ask for a Request for Proposal (RFP). They should do a cost analysis. Your financial people should be involved at this point. An RFP is just a first pass. There should be nothing of a proprietary nature in this early discussion."
Should you consider an audit?
"The next step is to do an in-depth audit of the company," Farren continues. "In fact, a company of any size should be doing on-going audits of prospective co-packers all the time. An audit should take from one to five days. Visit all the co-packer's sites and do a Good Manufacturing Practices evaluation for quality, service, and costs at each site. You are looking for consistency of services at all locations.
"The depth and detail of an audit are critical," he adds. "You can't allow failure. You are creating a product in your own name."
"Century Foods has been audited by numerous CPG companies, which certainly positions us for passing future audits," Lemus adds. "Typically, if the CPG company and the chosen co-packer share the same ultimate goal, audits can be performed expeditiously."
Saddle Creek's Pericht offers a differing view. "Some customers do audits, some don't. But if you want a long-term relationship, then absolutely do an audit. It's a long and arduous process. For small or short-term projects, an elementary review is sufficient."
But the homework does not end with the audit, Farren insists. "Now you are ready for production to start. You should have your own people on-site—procurement, quality control, process, and packaging—to watch how the contract packager completes the first lot of the product run. Some mechanical people may stay longer to see how the company continues to run the product. In fact, you may have people on-site permanently. If not, at least initially you need one of your own people there, probably a quality-control person.
"If you don't have your people there all the time, at least make periodic visits. At Gillette, we had teams of our people on-site," Farren says.
When the 'uh-oh' happens
What does a CPG company do if its needs are not met, and what does it do to save its retail customer base? "We take an active role with each of our customers to understand their customer base, present ideas, and follow industry trends," says Lemus at Century Foods. "This approach allows us a more intimate understanding of how each product is placed, sold, and distributed at retail. The real estate that the CPG companies secure with each product on the shelf is extremely valuable. If the product is not taking up that space, there is a threat to the customer base. It is interesting how much time and money can be saved by evaluating all components."
Lemus also strongly advises developing a contingency plan that considers impacts beyond projected excess-capacity needs. "If the co-packer has various facilities, sister companies, or other strategies in place to assist for even further growth of a product, that is certainly a plus. Knowing that capacity will not interfere with product growth allows for CPG companies to focus on sales and marketing of the product," she adds.
Farren agrees about the need for a contingency plan. "If the contract packager cannot meet your needs, then the audit failed you. You're up the proverbial creek without a paddle. Take it on the chin and prepare a corrective action plan immediately," he advises. "You should have contingency plans in advance. All quality certifications should be in place. And you should never allow any changes in raw material procurement without your certification."
Careful selection of a contract manufacturer and packager is always crucial, but the homework will pay off handsomely over time. However, Farren cautions, never lull yourself into a state of satisfied comfort. He also warns, "Don't let the co-packers sell the excess capacity out from under you." 
Companies in this article