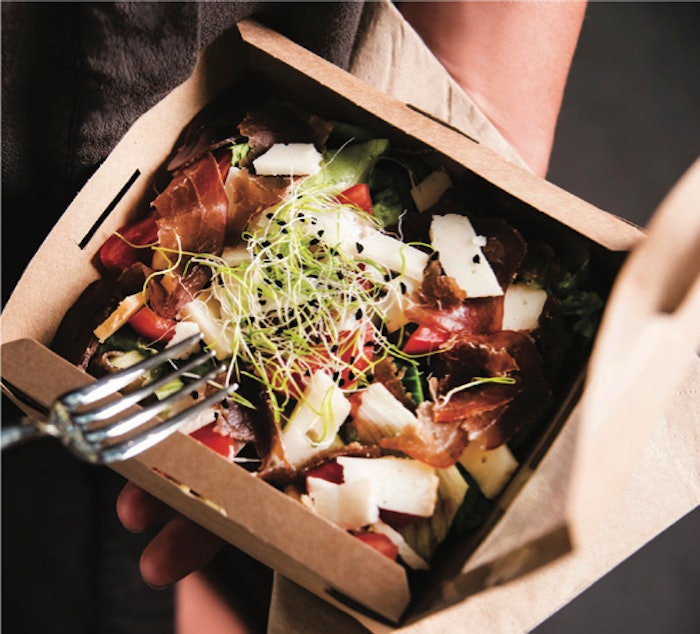 Nearly two out of three food manufacturing companies are looking for recyclable packaging solutions, according to a new report by PMMI Business Intelligence, and the majority of brand owners interviewed made at least one significant change to packaging substrate materials in order to increase ease of recycling.
The materials food companies are pursuing are primarily recyclable (64%), followed by compostable and variety/multi packs (both 30%), plant-based packaging (24%), multi-container formats (14%) and material reduction (4%). (Multiple answers were allowed.)
Said one Director of Process Engineering at a frozen and fresh meat, poultry, and seafood manufacturer, "Our goal is zero landfill, so we're looking for packaging materials that are plant-based to be more recyclable or compostable."
An Engineering Sr. Manager at a cereal and grains manufacturer said, "By 2025, our sustainability goal is to reduce the impact of our carbon footprint with packaging that is 100% recyclable, compostable, or degradable."
According to the report, "2019 Trends and Advances in Food Packaging and Processing," three out of five participants are also making processing and packaging changes to extend shelf-life, prevent contamination, and present a more sustainable consumer package. 36% percent of participants are testing sustainable materials, and 30% are introducing flexible formats. 13% are exploring bag-in-a-box, and seven percent are incorporating barrier films as well as single serve convenience packaging.
Some pointed out limitations, such as the Packaging Solutions Specialist who said, "There are lots of materials in development, but none will have a major impact just yet; there is a need for more environmentally friendly materials that are cost neutral to be accepted." Or the Packaging Engineer at a beverage manufacturer who said, "Flexible packaging with barriers in the film cannot be recycled, we need more innovative solutions."
Flexible food packaging materials continue to be in demand and though there are limitations to recyclability, they do offer lower production requirements in terms of water, energy, and raw products, and produce less waste. They are also lighter, cutting down on transportation emissions.
The report found that flexible materials are being used more than rigid at 56% of the food companies interviewed, while 18% utilize flexible packaging exclusively. Only eight percent utilize rigid packaging exclusively. Said one Director of Continuous Improvement at a co-packer, "The trend is away from rigid; we see lots of tray and shrink packaging now." 40% of the flexible formats being used are stand-up, while 32% are flat pouches and 28% bags.
Participants also said that new materials are being tested at food companies (though some availability remains limited):
·     Transparent materials
·      Recyclable pouch film
·      Compostable, biodegradable film
·      Crystalline PET
·      Edible membranes
·      Easy-release films for label removal
·      Flexible films with improved print clarity
·      PLA as a compostable substitute for plastic
·      Plant-based materials: completely organic profile
·      Stronger stretch wrap for pallets
And three out of five agree that FAT (Factory Acceptance Testing) trials are crucial to avoid experiencing unscheduled downtime when introducing new materials. Learn more about OpX tools for FAT here.
Source: PMMI Business Intelligence "2019 Trends and Advances in Food Packaging and Processing"
Download the FREE Executive Summary below, or PMMI Members can download the entire report here.
Make plans to visit PACK EXPO East in Philadelphia, March 3-5, to see on-trend food processing and packaging machinery and materials.