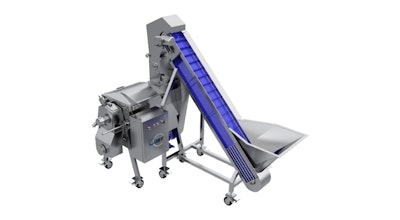 This content was written and submitted by the supplier. It has only been modified to comply with this publication's space and style.
JBT FVPGrow and Chopper Blender SE technologies are designed for juice and purée processing manufacturers in need of smaller-sized, versatile machinery to implement across their production lines.
The FVPGrow separates seeds, skins, and extraneous particulate material to produce a liquid or semi-liquid product out of various fruits and vegetables. It offers a continuous, hygienic juice extraction at up to 1 ton per hr, depending on the raw product. No heat is added during the extraction process, suiting the product for immediate bottling, and can be followed with JBT high pressure processing (HPP) technology.

Constructed with all-stainless-steel components and other corrosion-resistant materials, FVPGrow provides a compact design to accommodate the needs of smaller production spaces. An additional endless screw evenly distributes incoming products to create a more uniform product loading and reduced maintenance. A single motor provides enhanced simplicity and efficiency throughout the production process.

The JBT Chopper Blender SE rapidly reduces frozen product into a palpable condition for juice and purée production. The technology comes with a hot water jacket around the lower portion and bottom of its tank, supporting the product thawing process, as well as a heating jacket that lines the underside of the intake chute to help frozen product flow into the system. These jackets, combined with a unique, heavy duty spiral blade, allow the product to reach a flowable state quickly.

The Chopper Blender SE offers a frozen juice drum processing rate of four drums per hr, allowing products to be processed almost immediately from the cold room, reducing electricity costs that come with products sitting in refrigerators or chillers for an extended amount of time.
Companies in this article