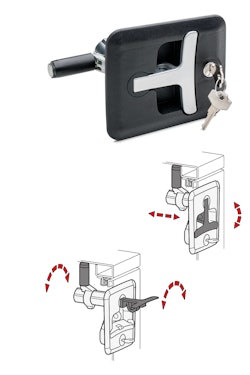 The standard parts provider, JW Winco, introduces its Lift and Turn Compression Latch for holding doors, covers, and hatches closed. It is meant to be operated in two steps with an ergonomic, powder-coated T-handle in black or gray.
When folding the T-handle in or out, a stroke of 5 mm is designed to be initiated on the rotating latch to generate the required pressure against a door seal. In the folded-out position, the T-handle can be turned to the left or right side, moving the rotating latch 90° behind the cover or door, allowing it to be opened. The rotating latch can be flexibly adjusted for frames between 13 and 75 mm thick, depending on the application. The two-stage movement should secure the closure against vibration.
To secure the lift and turn compression latch in place, the handle can be locked in the retracted position using the supplied key. The design of the closure housing also is also meant to allow the T-handle to be additionally secured with a padlock.
The company says it supplies the polyamide closure housing with four injection-molded bolts, including the associated nuts, for easier installation. The housing also features a permanently integrated silicone seal for protection class IP65, designed to make it well protected against the entry of dust and water.
In practice, the Lift and Turn Compression Latch is most often used on utility vehicles and in industrial plants. 
Companies in this article