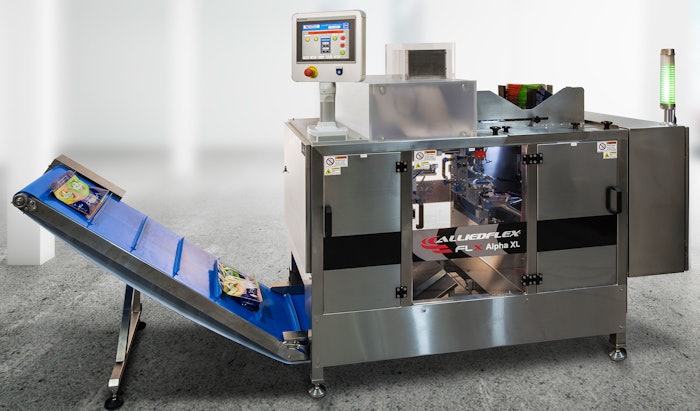 The FLX Alpha XL can be used as a low to moderate entry level system, ideally suited for R&D, pilot plant, start-up, and in-house test market trial operations. It can accommodate a wide variety of popular pouch and bag formats including popular standup/zipper and quad styles. The new XL model offers a broad size range capable of handling retail, club store, and larger food service sizes all on the same machine with rapid change over. The FLX Alpha models are all designed to handle pre-made pouches and bags made of laminated, recyclable, compostable and biodegradable materials. They also offer ultrasonic sealing as an option.
The FLX Alpha XL utilizes a Rockwell - Allen Bradley Control System and User-Friendly Color Allen-Bradley Panelview HMI - Operator Interface. The system is manufactured to meet UL and CSA electrical codes.
The FLX Alpha XL can be configured with a multitude of filling systems including weighers, augers, pumps, and other feeding mechanisms to suit a multitude of product applications.
Companies in this article