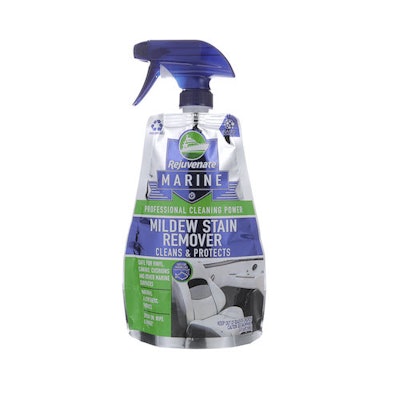 Made by Glenroy Inc. for For Life Products' line of Rejuvenate® MARINE cleaning solutions, this innovative sprayer pouch provides a boatload of benefits:

• This convenient, lightweight 24-oz pouch weighs 20 g (sprayer not included) as opposed to 51 g for a typical 24-oz plastic bottle.
• Space is at a premium on a boat, but this Rejuvenate® MARINE sprayer pouch stores easily within tight spaces and collapses down as product is used. Unlike products in rigid packaging, the space required to store the product is reduced with every use.
• The puncture-resistant flexible packaging material allows the consumer to put several Rejuvenate® MARINE cleaning products in one small locker without worrying about bottles breaking against each other or contents pouring out.
• One truckload of pouches holds 364,000 packages while the same quantity of like-sized rigid bottles would require nine truckloads.
• The additional eight truckloads traveling 1,000 miles will require an additional 2,000 gal of fuel and emit nine times the amount of greenhouse gases.
• Nine truckloads take 18 man-hours to load/unload compared to two hours for the single truckload of pouches.
• Flexible pouches allow for more efficient warehousing, as 234 pallets are needed for bottles but only 26 pallets are required for pouches.
This lightweight, puncture-resistant packaging format is ideal for e-commerce. But it also supplies heightened visibility and impact at the shelf, providing differentiation within a market where rigid containers are everywhere.
According to President, CEO and Managing Member, Joe McDonnell of For Life Products, the company's Rejuvenate MARINE cleaning solutions have been well-received by consumers. "Consumers love the flexible packaging which allows the pouches to be conveniently stored into small areas, especially when storage space aboard a boat is very limited."
With this package, Glenroy Inc. earned a Gold FPA Flexible Packaging Achievement Award in the category of Expanding the Use of Flexible Packaging.
To learn more about Glenroy's stand-up pouches, visit www.glenroy.com/pouches.
Companies in this article