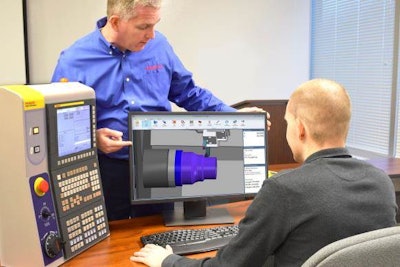 The FANUC Machining Simulator features Autodesk Fusion 360 CAD/CAM/CAE software and a custom machining simulation program designed by ModuleWorks.
The simulator comes with Fusion 360, a cloud-based 3D CAD, CAM and CAE software platform that helps bridge the gap between design and machining and works on both Mac and PC. Students can use Fusion 360 to perform CAD/CAM work and the included post processors will convert the designs into G-code suitable for the included CNC. The CNC will use this G-code to command the machine tool. The simulation system also includes a simple G-code editor for making modifications before the program is sent to the CNC. Students can easily import their programs directly to the CNC using the FANUC FASBacCNC user interface and also back-up the critical CNC data.
The core of the system is the flexible and powerful FANUC CNC Simulator. This portable CNC Simulator provides users with the experience of working with real look and feel of a true hardware-based FANUC control. Based on the industry standard FANUC Series 0i-Model F, the CNC Simulator can be operated as either a 3-axis mill or a 2-axis lathe. Users can run programs, manage tooling and make any modifications on the control just like they would in a manufacturing environment.
Companies in this article