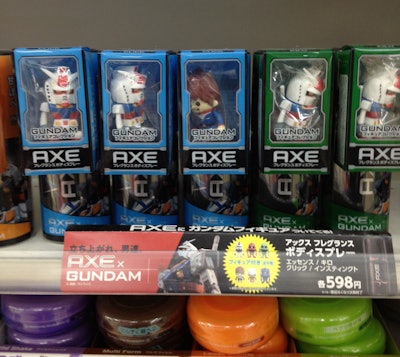 We're not sure which is bigger in Japan, toy premiums or anime, but they combine with this AXE body spray package from Unilever that comes with an attached anime figure. The package for the toy portion that's affixed to the film-sleeved spray comprises a semi-rigid windowed and printed plastic carton that's about half the size of the spray package.
Found priced at 598¥/USD $7.45 at a Circle K Sunkus convenience store in Nagoya, Japan, the line of six different Gundam anime figures paired with AXE body spray was reportedly launched in mid-September.
It's not the first time the brand has offered such "boy toy" premiums that play well with the young male audience the brand targets; last year, AXE similarly teamed up with the anime manga series One Piece.