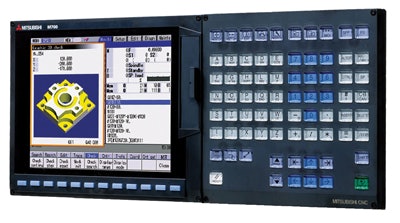 More than 84,000 top manufacturers worldwide have turned to Mitsubishi Electric Automation, Inc., for computerized numerical controllers (CNCs) to run their most complex machining centers and lathes more efficiently. With increasing industry demand for even greater production output from CNCs, Mitsubishi Electric has introduced the multi-axis M700V Series of computer numerical controllers.

Key advances of the M700V Series CNCs include:
Optimum machine response control for drive system speed and accuracy
Complete nanometer control and processing for ultra-precision, advanced machining
Adaptive notch filter control to monitor and prevent repeated fluctuations caused by mechanical wear
Super smooth surface control to suppress vibrations and maintain the desired speed
5-axis machining control for proper positioning of the tool center point

Available in two models, the M700VS is a stand-alone, compact, integrated controller with a built-in display screen for HMI functions, while the M700VW model operates on a Windows® platform for PC-based control. Both models feature a high-speed servo network.

Other advances in the M700V Series over its predecessor include improvements to the basic CNC functions, graphic performance and built-in PLC; 66 percent reduction in power consumption on the M700VS model; and a higher level of custom functions on the Windows XPe-based M700VW.

Designed for a range of metal-cutting, forming, plastics and woodworking applications, the M700V CNC features simple HMI screens to facilitate navigation and operation, including a menu customization function, pop-up screens and a guidance function. A 64-bit RISC CPU and a proprietary LSI power the CNCs.

Mitsubishi Electric Automation CNCs are used in a wide range of applications. These include machine tools; vertical, horizontal and 5-axis machining centers; multi-turret, multi-spindle, turn mills; and multi-system Swiss-type turning centers. Additional information about M700V Series CNCs is available at www.MEAU.com.
Companies in this article