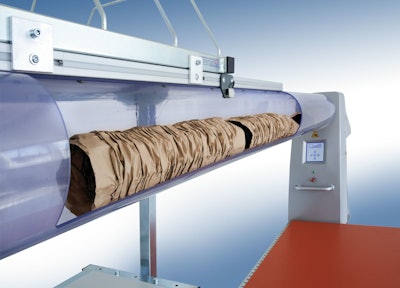 The machine unfolds a paper tube and processes it into flexible paper padding and packing filler. Plus, the patented product fills more volume using less material. The machine produces a clean, sophisticated appearance of the finished protective packaging, especially suited for the pharmaceutical and cosmetics industry. To improve the positive unpacking experience even more, PAPERplus Chevron is available with white kraft paper.
Another new feature of PAPERplus Chevron is a special setting that reduces paper consumption even further for applications that require a lower level of cushioning performance. This is useful for packing light products such as medicines that may only need void-fill or top-fill.
The machine is available as a tabletop model or on a mobile metal stand. PAPERplus Chevron offers a variety of options for integration into the packaging station and superordinated packaging process.
In a standard packaging system the paper pads are distributed to the packer through a delivery system of plastic tubes placed at an ergonomic working height within comfortable reach. Using a conveyor system, the machine can supply paper padding to several packaging stations. The padding strip is automatically divided into sections by the machine.
Companies in this article