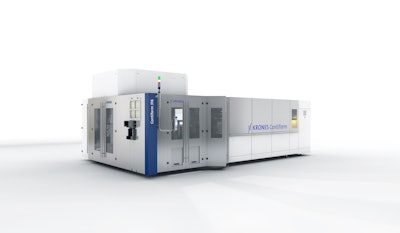 The Contiform 3 also shortens product change-over times to increase flexibility, and provides greater user-friendliness. The machine's completely redesigned blow-molding station enables plastic containers to be reliably produced at a speed of up to 2,250 containers/hr. and cavity. Developed in sizes ranging from 8 to 36 blow-molding stations to provide outputs of up to 81,000 containers/hour.
An ultra-flexible electro-magnetic stretching system enables any machine speed to be perfectly matched to a stretching speed. Elimination of transfer belts reduces mechanical efficiency losses and wear and tear. Controlled transfer clamps ensure minimal force is applied to the PET preforms. With the optional MoldXpress system, mold replacement time is reduced to less than 1 min./blow-molding station.
New functions contribute towards significant savings in compressed-air consumption. Total air consumption is said to be reduced by a third. A new heating case configuration in the infra-red oven provides significant energy savings Energy-efficiency has also been improved by the Monotec drive technology for the blowing wheel, the transfer starwheels and the oven.
The machine's hygienic design is enhanced by its new casing made of aluminium sandwich panels. The use of actively controlled transfer clamps helps reduce PET abrasion and risk of soiling the machine with PET dust. The Contiform 3's touch-screen allows the electro-magnetic stretching system's stretching distance to be set at the touch-screen for all blow-molding stations simultaneously.
Companies in this article