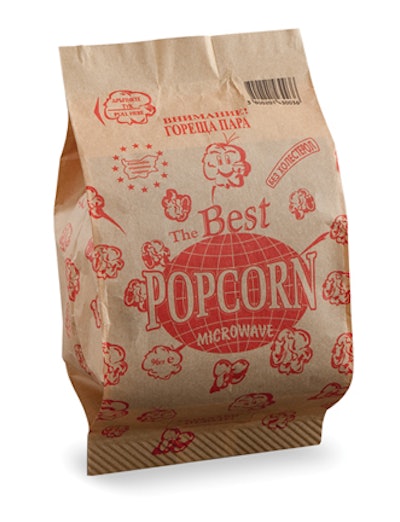 A component of selected packaging structures, PFOA has been implicated as a possible link to certain health problems such as thyroid disease in some studies.
Introduced by Exopack, the new bags incorporate grease-resistant, PFOA-free coatings from Solvay Solexis. Exopack also worked closely with Wausau Paper to ensure the paper properties and treatment were adjusted to prevent grease bleed and package staining.
The packaging is a recipient of an FPA Environmental & Sustainability Achievement Gold Award because it averts introduction of PFOA into the environment and the potential for bio-accumulation from microwave popcorn bags, while maintaining the consumer convenience of the packaging. The packaging also eliminates the potential liability concern of microwave popcorn producers and ensures consumers that they are not putting themselves at risk for unknown health effects.