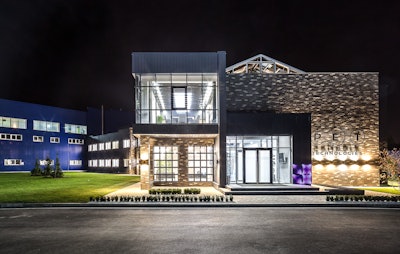 PET Technologies has grown into an international company with sales and service network in 15 countries around the world. Simplicity and uniqueness, European quality, and innovations - those principles make the foundation of companys' philosophy since the beginning.
20 years of success – motto that unites PET Technologies goals and grand path it has already completed. Every single employee, partner, and customer, who contributed to the common cause, is an integral part of its success. Among those milestones is development of innovative series of APF-Max linear blow molders with productivity up to 14000 bph for bottle volume 0.2-3.0 liters. More than 500 projects for blow molders installation and 10000 blow mold cavities supplied in total.
The opening of a new workshop was timed to coincide with the PET Technologies 20th anniversary. Head of the board, Aleksandr Suvorov cut the red ribbon at the ceremony. New, modern blow molds production facilities work at full capacity today.
PET Technologies blow molding equipment and blow molds are successfully operating on 5 continents, in 45 countries around the world. Reliability and service of our equipment guarantee success for our clients: international corporations such as AB InBEV, Olvi, Unibrew, Coca Cola, Pepsi, Carlsberg, Efes, IDS Borjomi Group, and several local brands.
Companies in this article