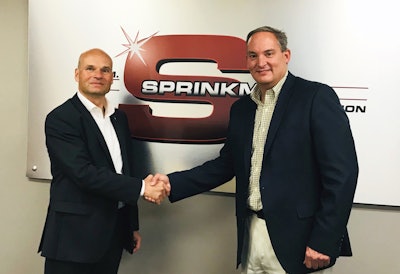 Employing over 125 employees at its Waukesha and Elroy, WI, locations, the company serves customers ranging from start-up microbreweries to large multi-national food and beverage producers.
"We are proud to join forces with a global leader like Krones." said Brian Sprinkman, president of W.M. Sprinkman. "This partnership will allow us to exponentially widen our product and service offerings to our customers."
"Bringing Sprinkman into the Krones family not only adds an experienced team of employees and a great customer base, but also helps round out our U.S.-based process engineering and manufacturing capabilities," said Holger Beckmann, president and CEO of Krones Inc.
"The Sprinkman brand is well known and respected. Combined with the strength of our subsidiaries Trans-Market and Javlyn Process Systems, we now have a synergistic offering in processing solutions, and can additionally supply Sprinkman's customer base with the automation tools they need to gain competitive edge in the marketplace through our subsidiary, Process and Data Automation."
By acquiring Sprinkman, Krones and its other recent acquisitions enhance the capabilities of the "House of Krones" product portfolio in North America, ranging from process technology solutions and bottling and packaging equipment to intralogistics, IT solutions, plastics recycling, and lifecycle service support – thereby supporting the entire production value chain for customers. Sprinkman will retain its brand and become a member of the Krones Group of Companies, with headquarters and management remaining in Waukesha, and a production facility remaining in Elroy, WI.
Companies in this article