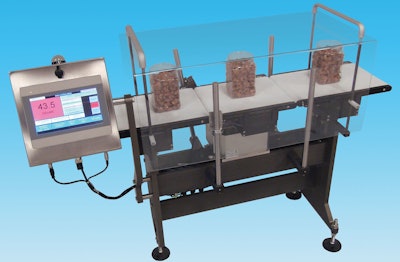 The PLC-based checkweigher features non-proprietary controls that make it easy to calibrate and communicate with other systems in the plant. Unlike other checkweighers that feature PC-based controls, the Evolution Checkweigher offers an unmatched communications package that provides access to data, which can then easily be downloaded via Ethernet IP, Modbus TCP/IP, USB and other methods. The Evolution offers end-users the ability to calibrate in the field, without the need of a Spee-Dee technician.
Packages are weighed with an Electro Magnetic Force Restoration (EMFR) technology that is 10 times more accurate than traditional strain gauge load cells, in addition to being more durable with plant operations. The Evolution can handle primary packages, such as bags, pouches, canisters, jugs and jars.
The Evolution can be used as a stand-alone unit or integrated with Spee-Dee auger, cup and rotary fillers, or with existing production equipment on the plant floor. With a unique three-leg design and without an electrical cabinet, the Evolution's small footprint easily fits into a production line and is simple to setup and balance.
In addition, a tool-less, open design enables easy cleaning. The Evolution comes with a standard 7-inch, full-color HMI display, and either an anodized aluminum or stainless steel base.
For more information on the Evolution checkweigher, click here.
Companies in this article