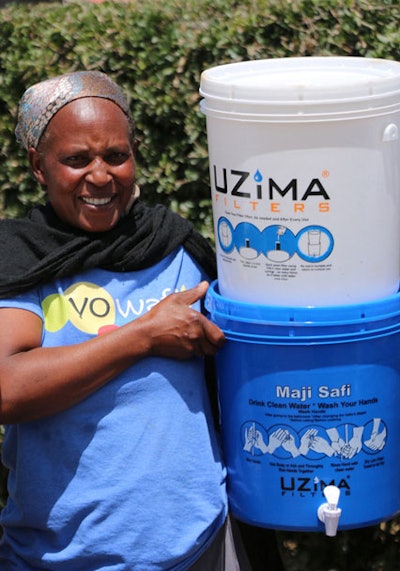 As part of its corporate responsibility initiative, Pregis will be contributing of portion of sales from its new Inspyre protective packaging brand to Uzima. Additionally, the program has a voluntary component for its employees, customers, and even consumers. Pregis will also be offering a contribution match program for its employees as well as assisting customers who wish to implement an internal program.
"Our first product under the Inspyre brand is Pregis' 12-inch wide, low-density polyethylene hybrid cushioning (HC) packaging film, stocked in water blue. In addition to helping brand owners enhance their unboxing experience, we were also inspired to use a portion of the sales of this new product to donate to a worthy cause. We picked Uzima because, it too, does inspiring work through its clean water initiative," said Dache Davidson, vice president of marketing, Pregis.
Uzima brings clean water to the world via a water filtration system. Communities use filters, and additional components, in conjunction with a two-bucket system to collect contaminated water and turn it into clean, potable water. Uzima filters are currently in use in five continents and have made a significant impact by reducing or eliminating water borne diseases, infant/elderly mortality rates and improving the overall wellness in those communities. When maintained properly, the filters have a 10 year life span.
"We are incredibly grateful for Pregis' donation. It will mean the difference between life and death for some people. Companies that purchase the water blue HC Inspyre packaging film should know that they are directly impacting families all over the world via Pregis' donation," said Adam Mosely, director of global business development, Uzima.
To help carry the initiative even further, Pregis has created a package insert which educates consumers that this specific protective packaging solution will provide clean water for a family who currently has no access. Brand owners can customize the insert with their own messaging and place into their e-commerce shipments. Information about Uzima is provided, as well as a website to visit to learn more, and contribute if they choose.
Companies in this article