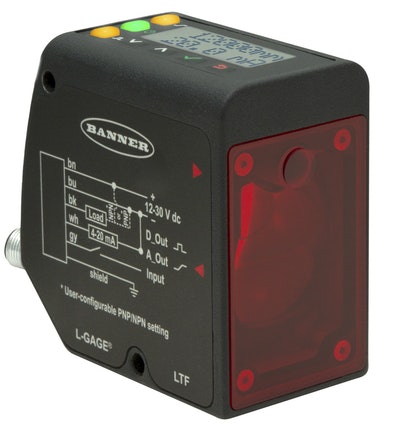 By emitting a pulsed light, the LTF measures the amount of time for the light to reflect off the object and return to the sensor to calculate the distance. This enables sensing in long-range applications, including loop control, part presence or absence and fill level.
The LTF offers the best-in-class combination of accuracy, repeatability and range. Designed with a Class 2 laser emitter with small, highly visible spot, the LTF provides easy sensor alignment and high excess gain. The same sensor that provides repeatability of less than 3 mm and accuracy of plus or minus 10 mm can also reliably detect dark targets past 7 meters and white targets at 12 meters.
In addition to precision distance measurement, the LTF delivers consistent detection of targets regardless of the angle, environmental conditions or ambient light resistance. The dynamically adjusted laser sensor can also sense objects with varying materials and shapes. The laser power increases output for dark targets or objects at steep angles, while reducing power for shiny targets.
Companies in this article