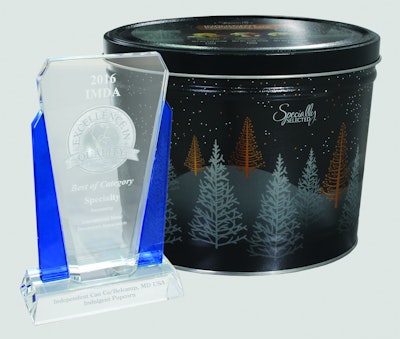 This year, the International Metal Decorator's Association (IMDA) received 140 entries from metal lithographers representing eight countries for evaluation of printing techniques, innovation, and overall print quality.
The 2016 "Best of Category" award for Specialty Packaging was presented to Independent Can Company for the Indulgent Popcorn Mix Holiday Tin. This specialty tin is a two-gallon tapered popcorn can with a reflective winter scene against a rich, black background.
Independent Can Company has been honored multiple times over the last 15 years, recognized with the prestigious "Award of Excellence" and "Best of Category" in Specialty Packaging, as well as in Signs and Displays.
Over the past decade Independent Can has standardized on Metalstar II printing equipment specifically designed for high definition printing on metal. The company raised the first U.S. greenfield metal lithography plant in over 30 years recently in Vandalia, Ohio, which complements its flagship print operations in Belcamp, Maryland.
"We are constantly looking for process improvements in order to meet the expectations of our customers," said Rick Huether, president, CEO, and chairman of the board.
Companies in this article
Videos from Independent Can Co.