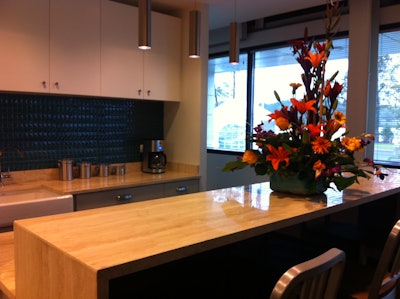 Displayed on the front door of Sonoco's new Innovative Packaging Solutions (iPS) Studio in Hartsville, SC, is a quote that reads: "Sometimes where you think inspires what you think™." The tagline was no doubt Sonoco's guiding principal for the design of the new $12 million facility, created to encourage curiosity, collaboration, and creativity between Sonoco and its customers.
At the grand opening of the iPS Studio in early late October, Sonoco President and CEO Jack Sanders opened the ceremonies by congratulating project lead Marcy Thompson, Vice President, Marketing and Innovation for Sonoco, and Whitney Architects of Illinois on the new facility. Next, South Carolina Speaker of the House Jay Lucas spoke about Sonoco's significant impact on the economy of Hartsville. "Sonoco has put Hartsville on the map," he said. "This new facility will bring about more jobs, bigger investment, and bold ideas for Hartsville and Darlington County."
In tours following the ribbon cutting—performed using a 3D-printed scissors made at the facility—Sonoco employees walked visitors through the space, which includes focus group facilities, simulation areas, collaborative workspaces, a pilot plant, and more. The 36,000-sq-ft facility, which was built on to an existing 36,000-sq-ft pilot plant, is open, spacious, and inviting, enhanced with numerous features such as whiteboard walls that encourage creativity.
In the simulation areas, four vignettes, including a bathroom, kitchen, living room, and retail store, allow products and packaging to be tested in near real-world environments. These simulated environments let Sonoco test how packaging performs in areas such as visual appeal, storage, functionality, and convenience, as well as how the packaging promotes a product on the retail shelf.
The iPS Studio also provides the ability to rapidly prototype rigid and flexible package designs through several technologies, including sample and mockup capability and 3D printing. The facility's pilot plant produces short runs of packaging to understand how well the package performs in a manufacturing environment, including filling capabilities.
Once the packaging is produced, Sonoco's physical and analytical labs test things such as how it holds up at high altitudes, how well it can withstand impact, how well it protects the product inside from external environmental factors, and how it holds up under extreme heat or cold. These tests gauge the overall performance of the package in protecting and preserving the product inside, to eliminate surprises down the road.
The iPS Studio supports Sonoco's i6 Innovation Process™, a six-step approach to package design that uses insights as a foundation, and then marries technical capabilities with a range of services and packaging options.
Companies in this article