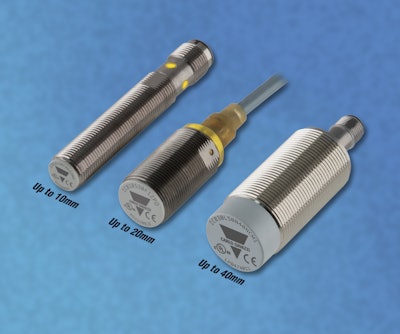 New "Extra Extended" range sensors provide sensing distances up to three times the sensing distances of standard inductive proximity sensors! In addition, Carlo Gavazzi has responded to feedback received from the marketplace to provide some important product enhancements.
By extending the sensing range up to 10mm (M12), 20mm (M18), and 40mm (M30), a broader range of applications are now possible. Their microprocessor-based design allows calibration after the assembly, enabling greater temperature stability, reliability, and repeatability. The microprocessor design also simplifies OEM customization requests, such as special output types, switching frequencies, and timing functions. The diagnostic LED is easily viewed from any direction, and provides status, set-up, short circuit, and overload indication. With up to 2,000 Hz operating frequency, the new ICB Series is the perfect choice for high speed counting and monitoring rotational speed. Permanently legible laser-engraved part number, cULus and CE marks, and serial number are readily visible on the front face of the sensor.
All ICB Series sensors are cULus listed, and rated for operation from -25°C to +70°C (-13° to +158°F). The ICB Series is a complete range of 3-wire DC inductive sensors in M12, M18, and M30 housings. Single, extended and extra extended sensing distances are available. The ICB Series is available in long or short nickel-plated brass housings, for flush or non-flush mounting, either normally open (NO) or normally closed (NC) PNP or NPN outputs. Connection options include either a 2-meter PVC cable or M12 disconnect plug.
Companies in this article