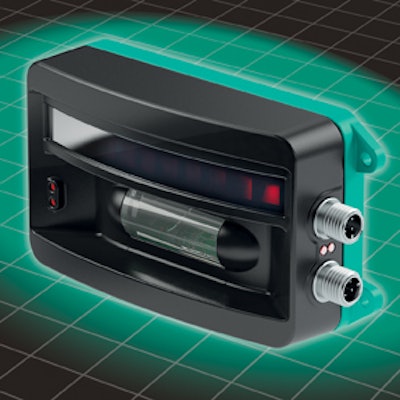 The R2100's multi-beam scan eliminates the need for moving parts that over time can break down or wear out. Ultra-IR LEDs deliver an 8-meter operating range without requiring a reflector, and are said to produce a larger light spot than laser emitters – an advantage when detecting objects with irregular surfaces or textures. Additionally, PRT is an effective time-of-flight measurement technology, providing maximum precision and reliability over large distances and in harsh ambient conditions.
Sensors with PRT emit a very short, high-intensity light pulse. They calculate object distance based on the speed-of-light constant and time-of-flight of the reflected light pulse. Unlike other time-of-flight sensors that transmit a continuous light beam, PRT sensors emit short pulses of high-intensity light up to 250,000 times/sec. Compared to a continuous source that uses lasers, the energy density of one PRT LED pulse can be up to 1000 times greater, allowing stable and highly-reliable detection, even at distances of 300 meters or more.
In contrast to triangulation-based sensors, the detection range of a PRT sensor is not limited by the geometric layout of the sensor optics, according to the company. Consequently, PRT sensors with smaller housings can be used for significantly larger detection ranges – providing impeccable measurement quality.
The R2100 detects the mowing edge on harvesters. With multi-beam scan (multiple emitter elements arranged side-by-side span a 2D area over 88 degrees), the LED scanner helps ensure precise guidance along the harvesting line and provides reliable measurement results, even on uneven agricultural landscapes. Additionally, the sensor has no moving parts to break down or wear out over time. This lack of moving parts also provides durability, ruggedness and measurement stability.
The R2100's fast PRT provides fast response times for rapid processes. Eye-safe ultra-IR LEDs and no moving parts result in low power consumption and allow operation over a wide range of temperatures – without any additional cooling equipment needed.
Companies in this article