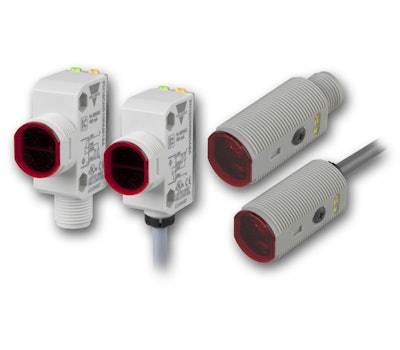 The detection principle is based on an Active Pixel Sensor (APS) CMOS array consisting of 64 x 1 sensors, where each pixel represents a specific position of the detected object. This offers an accurate sensing distance regardless of object color, allowing the sensor to be used on a variety of applications. These sensors have also been designed to avoid any false detection caused by lighting or electromagnetic interference, reducing system maintenance and increasing the application up-time. An efficient spherical lens design provides a long sensing distance.
The PA18 and PH18 sensors can withstand water pressure up to 100 bar, cleaning agents, and disinfectants. They comply with all of the requirements for the ECOLAB and IP68/69K wash-down approvals.
Technical specifications include: sensing range: 200 mm; power supply: 10 to 30 VDC; output current rating: 100 mA, output voltage drop: 2.0 VDC @ 100mA; two outputs -Normally Open NO, Normally Closed NC, available for NPN or PNP outputs; short-circuit, reverse polarity and overload protection; temperature range: -25°C to +60°C; IP67, IP69K; ECOLAB approved, CE-marked and cULus approved according to UL508.
Companies in this article