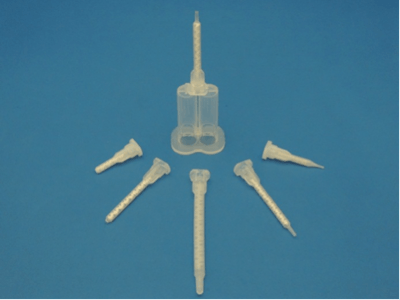 The 6B23 features and options include:
• Can be used with a variety of low cost static mixers for convenient meter-mix, dispensing of plural component epoxies, urethanes, or 1:1 ratio compositions.
• Can be used without static mixer for low cost DIY hand mix applications.
• Available in ultra-clear polypropylene, opaque polyethylene or nylon material for best chemical resistance. Custom colors are available.
• Patented unimolded plunger rod. Molded in place barrel air vents that allow precise insertion, auto deaeration and highly automated filling operations.
• High capacity tooling for lowest overall cost and assured supply of high volume customer applications.
• Convenient snap-off tip closure with molded in place reusable cap for secure, leak-free performance.
Plas-Pak's extensive dual syringe product line now includes 30ml, 14ml, 6ml and 4 ml sizes that come in a 1:1 ratio. The 30ml syringe is also available in a 2:1 ratio.