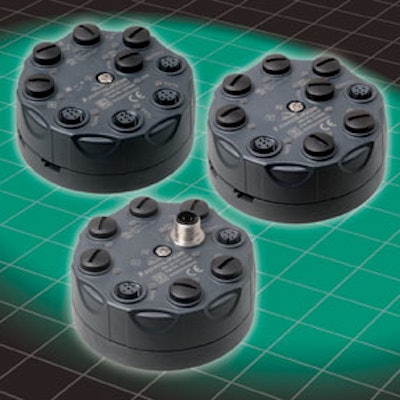 The first two modules offer two analog outputs each; one for 0-20 mA operation for flat cable connectivity and one for 0-20 mA operation with an M12 round connector. The third module offers four analog outputs of either 0-20 mA or 0-10 V for flat cable connectivity that can be powered by AS-Interface or an auxiliary power source. The output type of each module can be selected by DIP switch or automatically determined based on the connected load.
The round design also leverages an O-ring gasket to make these modules impervious to water jets or submersion.
These Ecolab, clean-design certified modules not only deliver reliable operation, they help improve productivity by delivering fast analog to digital conversion. These modules also provide lead break detection and integrated shield connection in the M12 connector and on the base to maximize reliability. A gasket keeps dirt and water from collecting between the base and the top of the unit. Stainless steel mounting hardware helps to ensure reliable installation.
With its unique yellow flat cable, AS-Interface supplies power to sensors and actuators, and enables users to transfer data to up to 31 analog nodes per AS-Interface network. Retrofitting AS-Interface is extremely simple, and the installation time and costs are much lower compared to conventional wiring technology. AS-Interface transfers data reliably, is extremely resistant to electromagnetic interference, has a diagnostic function and can detect faults such as short circuits.
Companies in this article