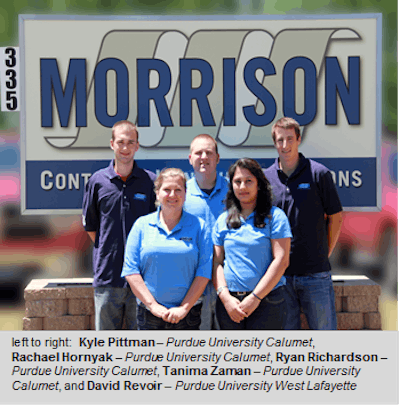 Morrison Container Handling Solutions has been supporting student education programs since they started in 1971 when they hired their first DECA student, Steve Smit. Smit is still with them today.
Morrison's President, Nick Wilson, is currently is active supporter of the Purdue University Calumet Mechatronics program. "We believe in education and are committed to providing internship opportunities; this is an important component in the education of qualified candidates for the packaging industry. Over the years we have found working with students to be very rewarding experience, and this year is no exception." states Wilson.
This year's class was asked how they feel about their intern experience:
Kyle Pittman, a junior at Purdue University Calumet majoring in Mechatronic Engineering Technology says, "Morrison is a great place to learn, with experienced professionals who are always willing to help."
Rachael Hornyak, a senior at Purdue University Calumet, majoring in Industrial Engineering Technology reminisces, "As a child I grew up watching different filler machines fill cans and bottles. Seeing and understanding how a timing screw is part of this 'magical' process, while seeing my childhood experiences come full circle is exhilarating. It is wonderful to work with so many amazing people that are so willing to share their knowledge."
Ryan Richardson, a freshman at Purdue University Calumet majoring in Mechatronic Engineering Technology shares that, "I have been learning a lot more machining, my experience at Morrison has been amazing, the people are great!"

Tanima Zaman, a 2012 graduate of Purdue University Calumet, BS in Electrical Engineering and currently enrolled in the MS-Mechatronics Engineering Technology program feels that, "Morrison is an amazing environment for learning with exposure to a broad range of the latest automated packaging systems and great people to work with."

David Revoir, a sophomore at Purdue University West Lafayette majoring in Mechanical Engineering Technology emphasizes, "My time at Morrison Container Handling Solutions has been a great supplement to my education and has given me a work experience that is truly invaluable."

Morrison is truly delighted to have this energetic group join their team this summer.

Companies in this article
Videos from Morrison Container Handling Solutions