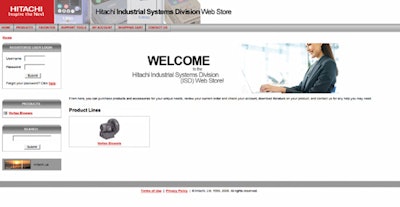 The site is designed to ensure that Hitachi customers receive consistent and rapid service regardless of their location, as well as to increase Hitachi's brand awareness on the Internet. The new Hitachi Industrial Portal Web site can be accessed at i-store.hitachi.us.
The new Web portal will eventually be a 'one-stop-shop' for Hitachi's industrial components and equipment products and services. This was all put together in part to fulfill Hitachi's commitment to providing standardized and uniform support services to business customers, which includes ease of procurement.
The site is equipped with a registered user name and password portion to protect its users, as well as an account, favorites, and support tools section. Each section is clearly marked in a toolbar at the top of the page. Products are easily accessible via the product link, or by clicking on the appropriate photo on the homepage.
Hitachi is launching its portal Web site to coincide with the release of its Oil-less Vortex Blower product. Hitachi's 38 years of Vortex Blower experience and nearly 100 years of compressed air experience are the foundations of the Hitachi Air Technology Group's product offering.
The Air Technology Group is based in Charlotte, NC. The Charlotte facility is the center for all Air Technology Group sales, operations, warehousing, and training for Distribution Partners and OEMs.