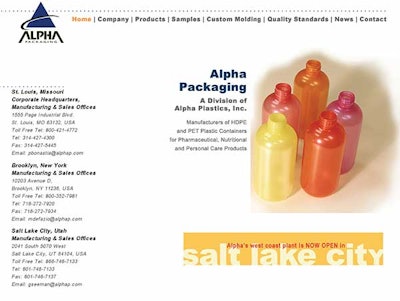 Alpha Packaging
This new site gives customers and prospects the ability to order product samples online. The new online product database and ordering function allow buyers to browse stock bottles and prototypes and add items they want to a shopping cart.
Banner Engineering
www.bannerengineering.com/iknow
Online training site is an interactive, educational site about sensing technology and is easy to use for busy end users. Includes interactive elements such as instructive Flash animations and an extensive glossary of more than 400 sensing terms.
Bosch Rexroth
The updated Web site now includes a comprehensive look at the Service Automation business unit of Bosch Rexroth and its training course offerings, schedules, and locations.
Boston Gear
This site now includes a 3-minute informational video that features technical data on its new 700 Series speed reducers.
Hassia USA
This newly updated site was redesigned for ease of navigation and includes color photos and full machinery specifications.
Kellysearch.com
Industry-to-industry search engine and e-procurement site focuses on the purchasing needs of engineers, designers, and industrial procurement professionals.
Mettler-Toledo, Inc.
This exclusive dealer network provides a level of online accessibility that gives dealers information such as specs, up-to-the-minute stock levels, shipment type, online shipment tracking, and an email confirmation or purchase.
Scitex Vision
This site now includes an internet-based remote support service called WebSupport, available for all Scitex Vision's graphic arts wide format and super-wide format printers and packaging presses.
Companies in this article
Videos from METTLER TOLEDO Product Inspection