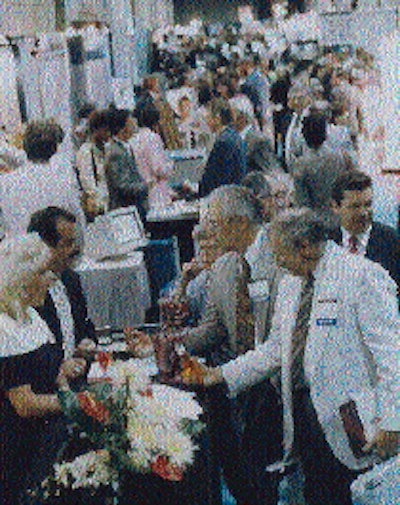 Over 8ꯠ visitors are expected-up 14% from last year and 2ꯠ more than the original show in 1993.
Sponsored by Bruno Blenheim (Fort Lee, NJ), the show is billed as the health, beauty and personal care industry's most comprehensive worldwide sourcing exhibition and conference in the United States. It's scheduled for June 26-June 29 at New York City's Jacob Javits Center.
Over 28 seminars are scheduled in conjunction with the show. Sessions related to packaging include:
How Point-of-Purchase Makes the Difference. Michael Jones, dir. of trade management at Schering-Plough, leads the examination of how in-store merchandising functions in the marketplace. This seminar will be held Tuesday, June 27 from 3:00 to 5:00. Speakers include John Lombardi, Revlon, discussing where to find creativity; Robert Kovalesky, Actmedia, describing successful in-store marketing techniques; and Harold Goldring, Goldring Display Group, explaining how displays can deter pilfering.
The Ever-Changing Consumers: We Must Change as They Do. Susan Buckley, publisher of American Health, leads this look at the latest research on changes in the markeplace. It will be held Wednesday, June 28, from 12:30 to 2:30. Topics include interactive media and advertising from Larry Chiagouris, Creamer Dickson Basford; symptoms and remedies of a changing consumer, described by Don McCollum, McCollum Spielman; and consumer lifeline marketing with Catherine Beyer Hurst, Epsilon.
From 3:00 to 5:00 on Wednesday, sit in on Packaging as a Marketing Tool. Eugene Matarese, vice-president of sales for Valois of America, projects how technologies and creativity can affect packaging. Topics include establishing a brand identity imperative by John Lister of Lister Butler; how packaging completes the product story, by Adela Taylor, Colwell Merchandising; and the packaging challenge of dispensing, presented by Robert Carow of Carow Packaging and Dispensing.
Companies in this article