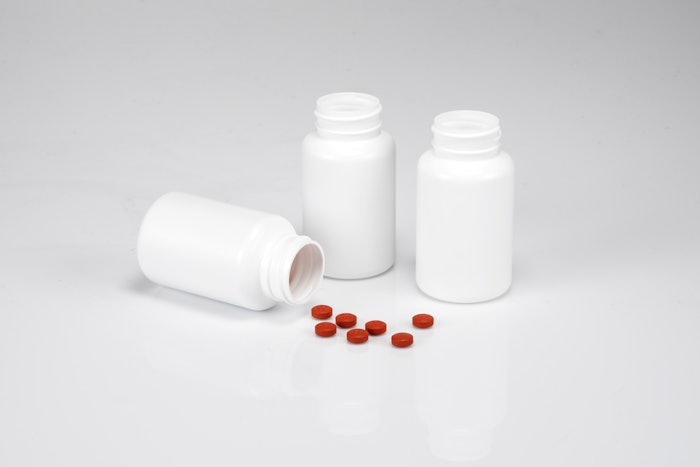 jARDEN Plastic Solutions, SACMI Group and Milliken & Company jointly featured at NPE 2018 a new pharmaceutical bottle that promotes sustainability through light-weighting and production efficiency. The high-density polyethylene (HDPE) bottle, developed for a leading pharmaceutical manufacturer, combines technology advancements from the companies to reduce plastic content by up to 28% compared to standard designs, while delivering excellent barrier performance.
More specifically, Milliken's additive solution for barrier improvement, together with uniform wall thickness provided by SACMI's proprietary Compression Blow Forming™ (CBF™) equipment, enabled jARDEN to produce the new thin-wall bottles. These bottles are strong and light, use less energy to manufacture and generate less scrap.
Compression Blow Forming is a sustainable plastic production method that combines compression molding and blow forming into one process. This patented process is said to offer advantages for pharmaceutical companies. First, it delivers consistent wall thicknesses, avoiding thinner areas that can allow for faster permeation of water vapor and oxygen. This consistency, together with the high-performance properties of Milliken's barrier technology, permits cost-effective lightweighting without compromising protection.
The CBF process is said to offer reduced cycle time and produce less waste compared to other blow molding technologies. The process also runs at a lower temperature, reducing energy use, which safeguards the purity of the resin against degradation. In addition to the benefits of lower heat, the compression of the preform reduces shear stress, which is important for initial resin processing and for further use after recycling.
Milliken's additive technology can be incorporated in HDPE as a masterbatch to create a passive barrier. Without the use of the barrier additive, HDPE typically forms large, spherulitic crystals that do little to inhibit the passage of oxygen and moisture. Milliken worked with a leading pharmaceutical company to obtain regulatory approval on a material formulation with improved barrier performance.
Companies in this article