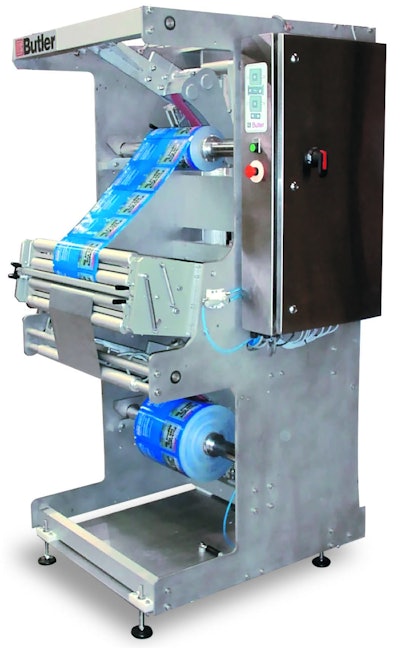 Butler Automatic, provider of automatic splicing solutions, announces that its film splicers such as the SP1 Automatic Splicer, make pre-applied zipper film easy to incorporate into existing packaging lines.
As a result, these splicers increase profitability and reduce lead time for reclosable packaging. Butler's automatic splicers are engineered with a small footprint, and are custom-built to fit on the front end of virtually any flexible film packaging line. Butler splicers make reclosable packaging retrofits a possibility for many packaging lines.
Reclosable packaging is in a period of rapid growth, as many manufacturers realize the added value reclosable features offer consumers. Many methods of adding reclosable features to an existing flexible packaging line require large capital investments, but pre-applied zipper film can be an ideal tool for companies looking to make the shift to reclosable packaging without significant up-front costs or extensive lead time.
Rolls of pre-applied zipper film are less dense than traditional film rollstock, leading to fewer impressions per roll and less time between roll changes. Automatic splicing eliminates the downtime of these additional roll changes, improving the profitability of packaging with pre-applied zipper film.
With a simple mechanical design and high-quality manufacture, the SP1 delivers long-term, trouble-free performance. The device senses the diameter of the expiring roll of film and automatically splices the end of each expiring roll onto the new roll.
Companies in this article