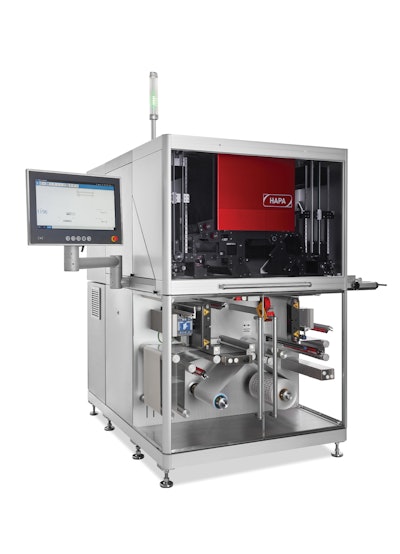 Hapa has brought printing and inspection together in a single pre-validated package that uses a common workflow. This innovation, which will be presented at ACHEMA 2022 (Hall 3.0, Booth D73), radically reduces system integration and validation efforts . The inspection capability is being brought to two product lines: the H382, the world's industry standard for in-line printing on blister lidding foils, updated for Smart Factory, and the Web 4.0 5D, which brings digital-uplift-efficiency to printing artworks in CMYK, including the variable data and serialized codes.
Both systems feature a pre-validated package comprising printing and inspection units sharing the same end-to-end PDF workflow. Technical integration of the inspection system in the workflow is made simpler, and the time spent on setup and validation is substantially reduced. Inspection encompasses the complete print image, printed data and codes, grading, and colors.
Thanks to the one-PDF workflow that underpins the Web 4.0 5D, accidental mix-ups between different artworks are ruled out. Production capacity is better utilized as a result, and every print project benefits from enhanced reliability.
The Web 4.0 5D includes a number of game-changing innovations, including Hapa's "hiflow" technology, designed for unprecedented in-line printing reliability and print on demand availability, and its patented curing technology that significantly reduces energy consumption in the machine and makes the Hapa Web 4.0 5D even more sustainable than before.
Both the H382 and Web 4.0 5D are designed for in-line printing and come as standard in top (T) and stand (S) versions for direct in-line integration into the packaging lines. They also come packaged as roll-to-roll (R) configurations allowing in-house offline packaging material production where required.
Companies in this article