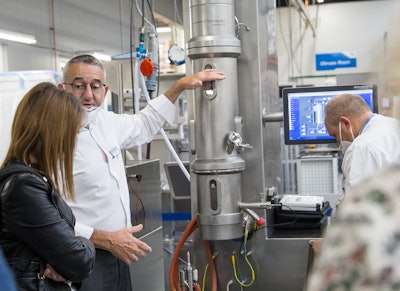 This content was written and submitted by the supplier. It has only been modified to comply with this publication's space and style.
More than 80 customers and other interested persons from the pharmaceutical, nutraceutical, food, and chemical industries visited the seminar days at Romaco in Karlsruhe on May 18 and 19 under the motto "Together towards a more sustainable future."
At this face-to-face event, guests from Germany, Austria, and Switzerland had the opportunity to take part in six different workshops held in small groups over a two-day period. The participants learned all about the latest trends towards more sustainability in the processing and packaging sector. Speakers from the Romaco brands Innojet, Kilian, Tecpharm, Noack, and Promatic considered the question of environmentally and consumer-friendly production processes from a variety of perspectives. They were supported by experts from Huhtamaki and Colorcon, two Romaco partners.
One of the items on the agenda at the Romaco seminar was the potential energy saving enabled by hot melt coatings in fluid bed processes, which offer up to 85% shorter processing times. The demonstration of Romaco Innojet's VENTILUS® Lab allowed participants to see the granulates' excellent flow properties and very good compressibility. In the case of natural products, these can be manufactured without any additives and with no added preservatives. Romaco Kilian's contribution was dedicated to the issue of product loss during tableting in production and the development of new tablets. Attendees gained a thorough insight into how a tablet press's material consumption can be significantly reduced through design measures and press simulations.
The joint Tecpharm and Colorcon workshop discussed the application of titanium dioxide-free tablet coatings. Titanium dioxide is regarded as hazardous to health and will be banned from food in the European Union as of August 2022. Due to their high level of process control, Tecpharm's tablet coaters make it easier to switch to alternative additives, not least because the technology can reduce spray loss by up to 60%.
On the packaging technology side, Romaco and its partner Huhtamaki shed light on the production of paper blisters using the Unity 300 blister line from Noack. As eco-friendly unit dose packaging, paper blisters are particularly suitable for use in the nutraceutical and food industries. Furthermore, Promatic cartoners support safe processing of recycled packaging materials.
The live stream presentations taking place as part of the seminar days were primarily aimed at an international audience. More than 100 interested persons from Europe, Asia, and America registered for one of the two dates on offer in May. A large selection from the broad processing and packaging portfolio of the one-stop solutions provider Romaco was covered.
The idea was to show how production processes can be made more sustainable overall, while bringing down the costs for energy and material. Romaco Noack's blister packaging lines, for example, are manufactured in a carbon-neutral fashion with a very small footprint and equipped with an energy monitor that markedly reduces the power and air consumption of each machine. Romaco was also highlighted its line competence when it comes to producing extra-large, multiphase blisters, including robotic transfer to the downstream cartoner. Demonstrations of the Romaco Siebler STF 120 tube filling machine, the Romaco Tecpharm Optima 100 tablet coater, and the Kilian KTP 590X single-sided rotary press rounded off the Romaco live stream in Karlsruhe.
"Climate protection doesn't have to cost the earth," concluded Jörg Pieper, CEO of the Romaco Group. "On the contrary, with the right measures a substantial reduction in manufacturing costs can be achieved through energy, material, and space savings. This forward-looking approach is consistently implemented at Romaco thanks to our sustainable machine design."
Companies in this article